Home Style | A Photographer's Home Cannot Be Without Art, So It Is Often Surrounded By Everything He Likes
Editor's Note:**
When You Invite Guests Into Your House, You Want Them To See Who You Are. Generally Speaking, It's Not Your Couch That Tells Them Everything About You; It's Your Strange Country Milking Stool, Which Is Placed Under A Retro Style Figure Painting Of A Person Who May Be Happy Or Drunk.

This Special "little Scene" Reveals More Secrets About You Than Other Objects. For Example, Do You Have A Dream Of Becoming An "Olympic Milker"? Or Are You Just Inspired By A Stool That Is Strangely Shaped And Looks Like It Came From Another Era? You Want Your Guests And Friends To Know Where Your Interests Are. Although You Can Talk A Lot About Yourself, You'd Better Let Your Favorite Objects And Monuments Tell People Your Story.

-- Style Of Home
So, Show Us Your home Style Like Inviting Us To Be Guests
---
After My Master's Degree, I Came To Shanghai And Soon Began My Freelander Career. Therefore, I Can Work From Home Most Of The Time, And My Interest In Home Aesthetics Naturally Occurs. Since Then, From Time To Time, I Get Inspiration Or Transformation Experience Through Home Magazines, Design Websites Or Life Bloggers. I Buy Some New Things Every Month And Also Want To Build An Indoor Space Of Work Life Balance.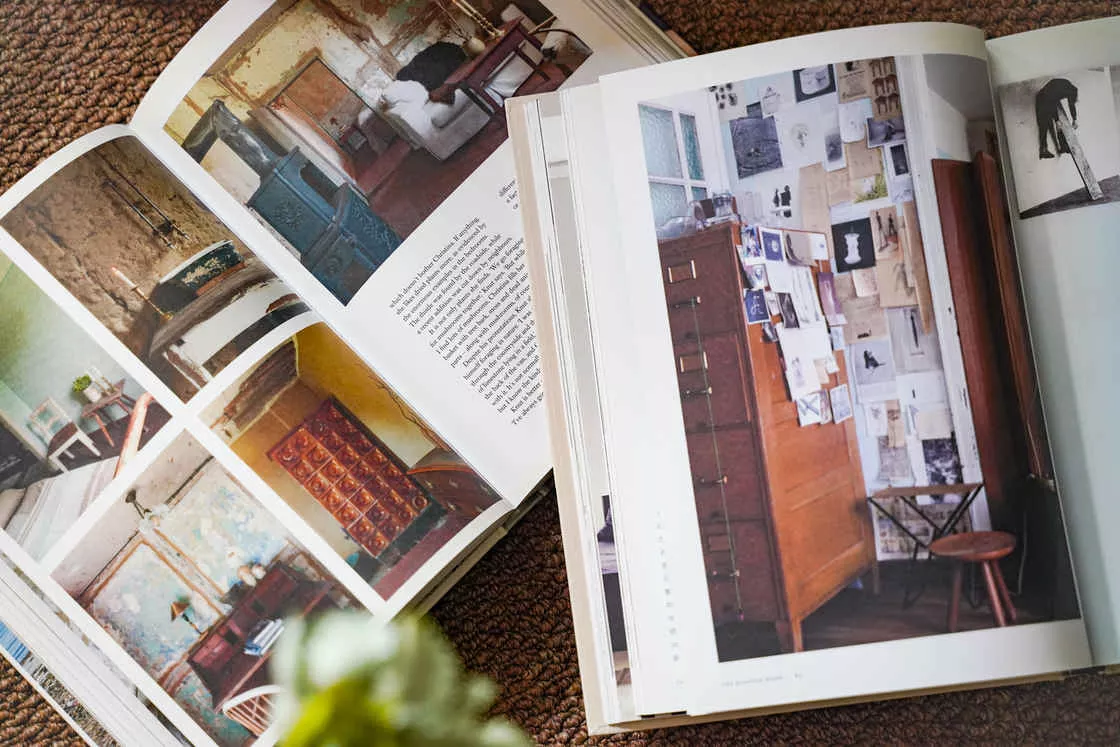 The Beginning Of This Year Was Somewhat Unsatisfactory, Because The Capricious Epidemic Was Forced To Stay At Home. On The One Hand, I Lamented That It Was So Difficult Not To Go Out For A Long Time. On The Other Hand, I Finally Had Enough And Long Time To Rearrange My Current Residence According To My Own Needs. I Have Always Regarded Home As A Shelter From The Noise And Suffering Elsewhere, And Also A Private World I Can Play With Freely. I Just Want To Be "surrounded By Everything I Like". It May Be A Little Difficult To Define My Current Residence With A Certain "style". It May Be A Place Where Everything In My Sight Can Please Me.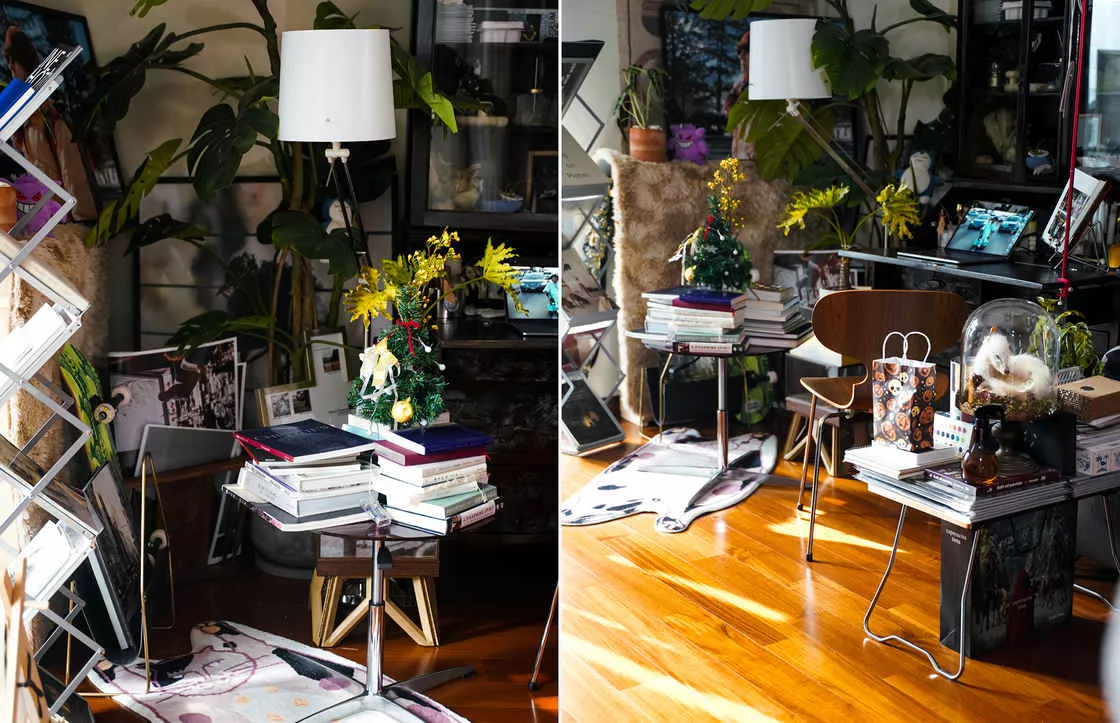 At The End Of Last Year, Although The Appearance Of The Living Room Is A Kind Of Disorderly Beauty, It Needs To Open Up A More Open Space For Home Sports And Rest During The Closed Period. In Addition, The Green Plants In The Picture Can Hardly Survive The Winter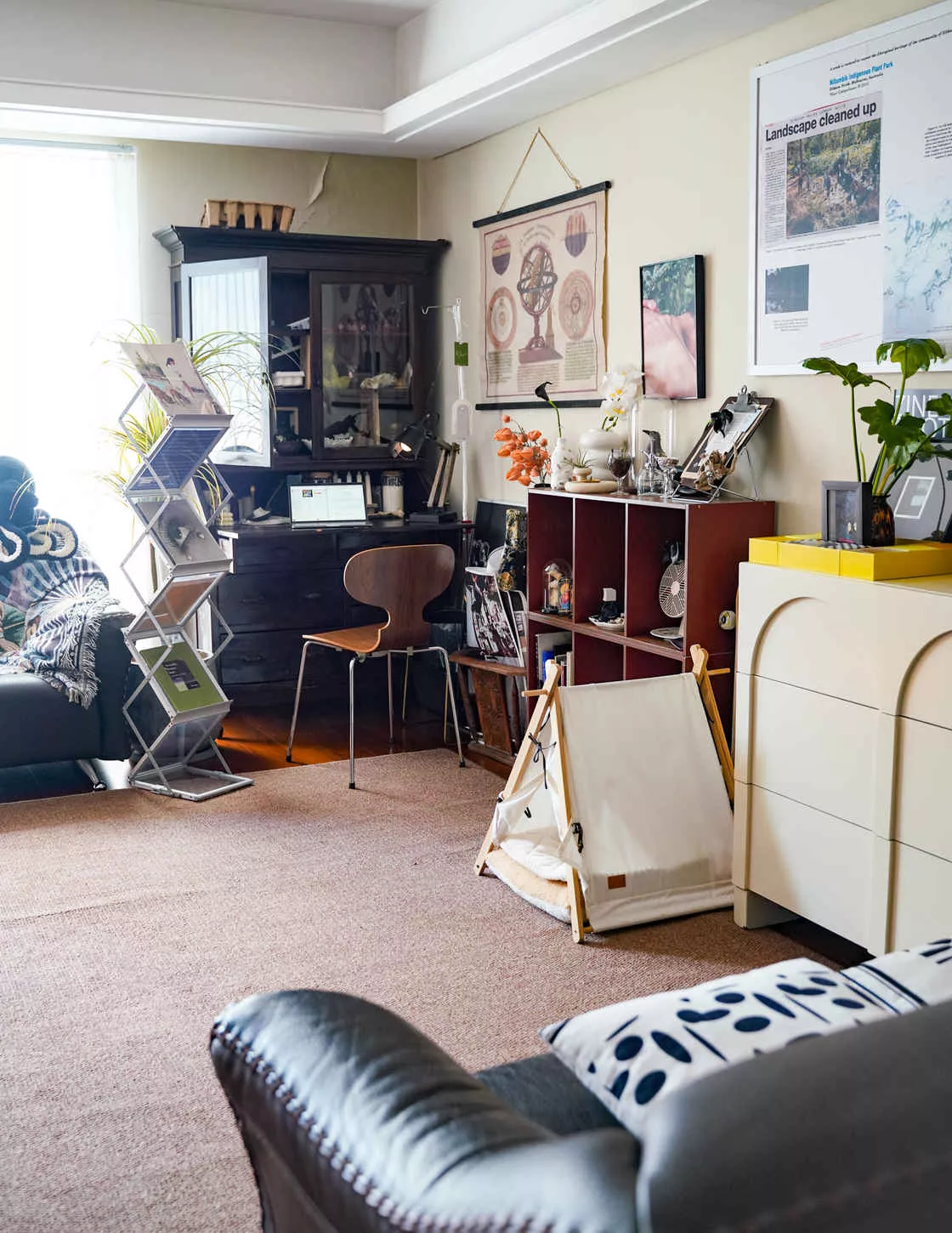 What It Looks Like Now Old Thing Complex**
---
I Like Old Things. Their Use Marks And Damage Are Some Treasures Left By Time. These "imperfect" Details Reflect That They May Have Experienced Unforgettable Migration Like Me. Damage Is Another Unique Beauty For Me.
The Biggest Old Thing In The Family Should Be This Solid Wood Secretary Cabinet In Art Deco Style. It Was From 1900 To 1920. The Scientific Name Of This Kind Of Cabinet Is "Bureau Cabinet". Compared With The Ornate And Frivolous Of French Rococo Style Antiques, It Is More Like An Extension Of British Decorative Art. Because Of The Age, The Tenon And Tenon Structure Of The Drawer Is Also A Little Dilapidated, So I Don't Use It To Put Too Many Heavy Things Such As Books. In My Living Room, It Is More Like The Location Of A Rare Cabinet, Containing Some Gadgets I Find Everywhere, Or Items Carrying Some Memory Or Meaning.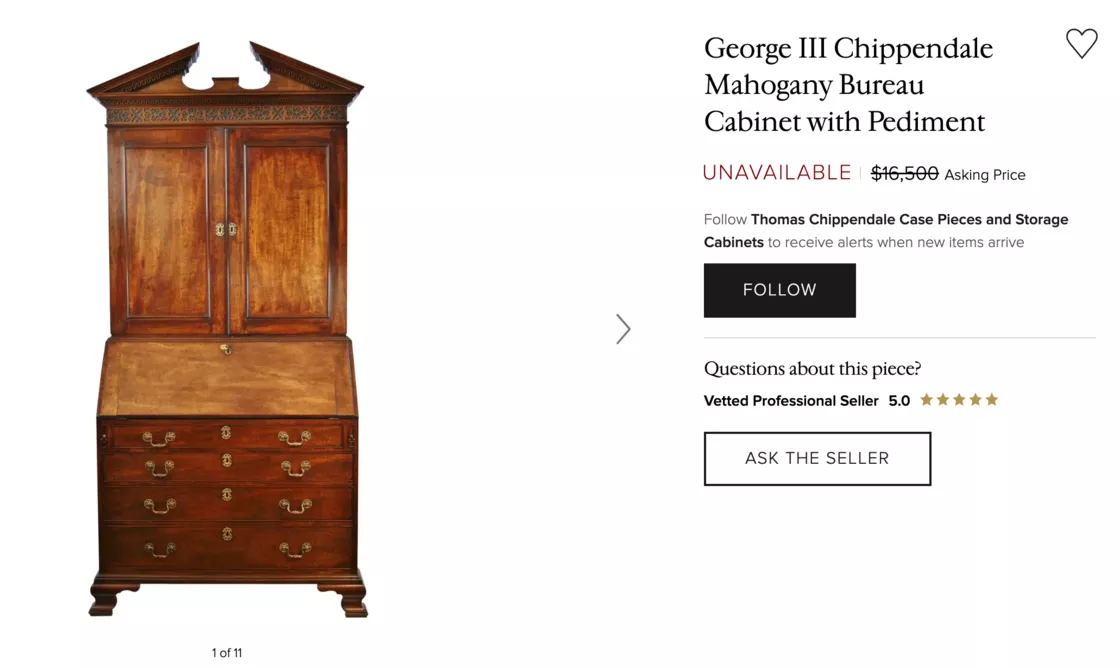 "Bureau Cabinet" Can Often Be Seen In Auction Houses Or Museums. Of Course, The Middle Cabinet Can Be Used For Storage, But After Opening, It Is A Standard Secretary Table. Wooden Brackets Can Be Pulled Out On Both Sides Of The First Drawer To Support The Table. The Key Is Usually Needed. Fortunately, The Original Key For Nearly A Hundred Years Has Been Well Preserved. I Collected All Kinds Of Candles And Hand-made Materials To Be Used At Home. As The Auxiliary Workbench At Home, The Desktop Was Equipped With An Old-fashioned Desk Lamp, Worn-out Wooden Lamp Arm And Black Metal Lampshade, Which Was Unexpectedly Suitable For The Temperament Of This Antique. Sometimes Reading, Manual Or Simple Office Needs Can Be Met Here.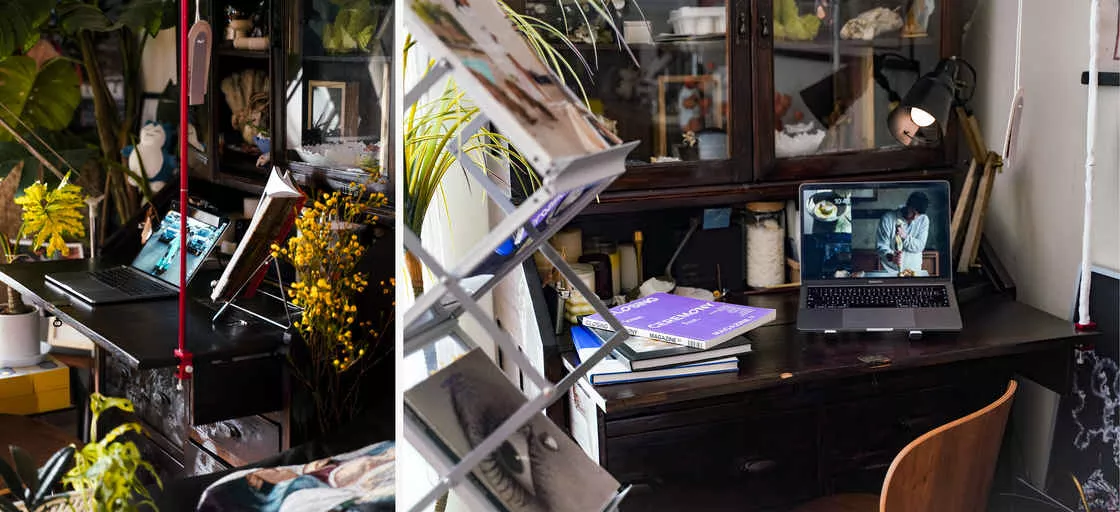 I Hope This Workbench Can Be Surrounded By Green Again After Unsealing, And The Main Workbench At Home Is Placed In The Bedroom By Me. The Desktop Itself Is Actually An Old Elm Wood Door, Which Is Very Heavy. On Both Sides Below The Wooden Door, Walnut Bed Cabinets Are Used As "table Legs" To Support, In Which Daily Necessities And Infrequent Digital Devices Are Stored.
On The Old Elm Door, You Can See Huge Curved Nails, Hammer Marks And All Kinds Of Scratches (some Of Which Come From My Cat). It Has Moved Two Or Three Times In Shanghai, And It Is Also The "furniture" That Has Accompanied Me For The Longest Time. At The Beginning Of The Year, I Bought An Electric Grinder And Wood Wax Oil, And Maintained It Again. The Color Accidentally Became Deeper And Less Damaged, But It Was More Unified With The Walnut Bottom Cabinet In Color And Texture.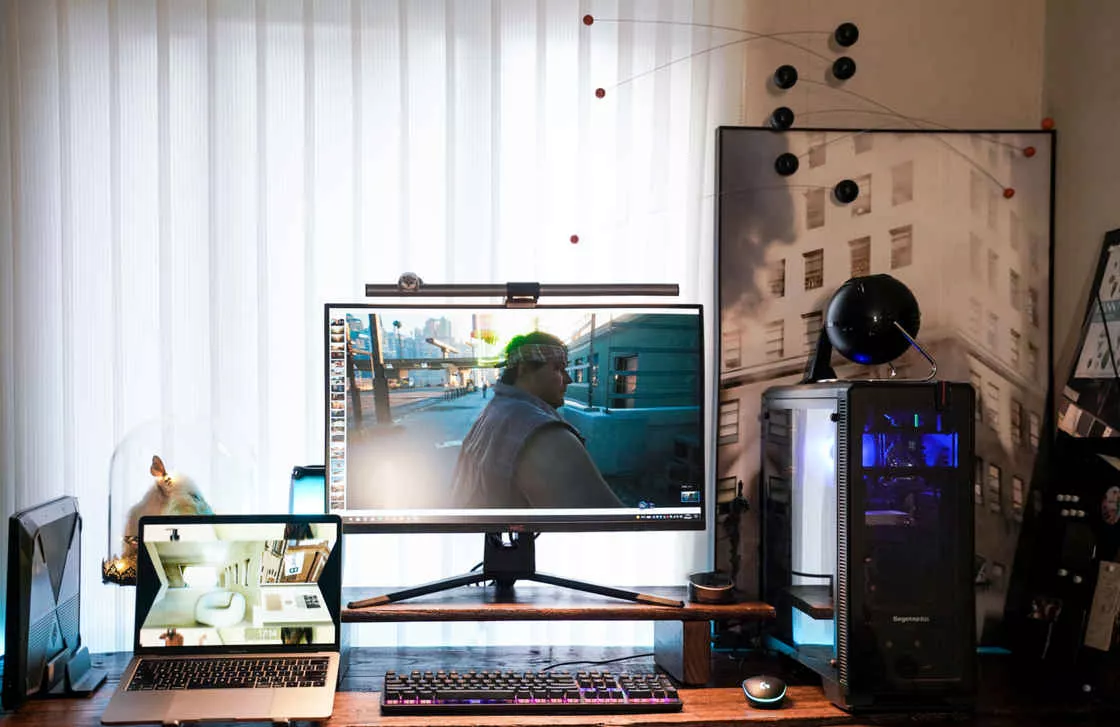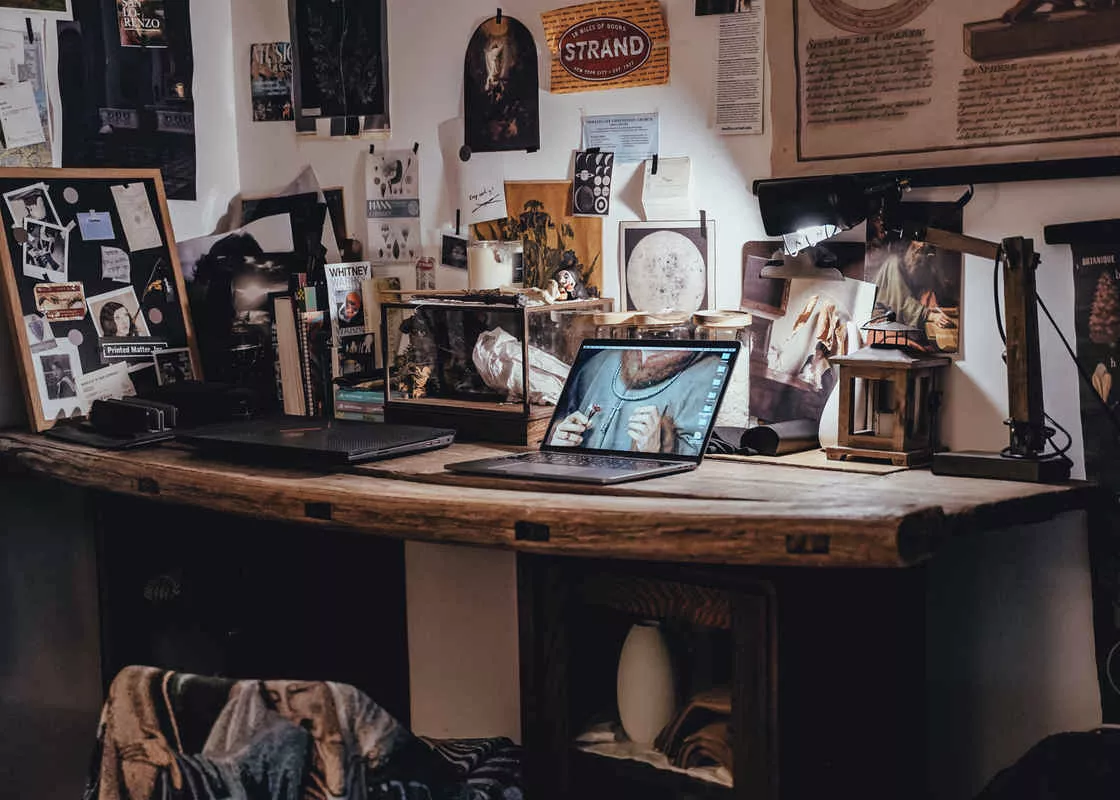 In The Previous Apartment, It Was The Same Self-made Desk With Bedside Table And Wooden Door. At That Time, I Began To "let Myself Be Surrounded By Everything I Like". On The Ground Next To The Secretary Cabinet In The Living Room, I Put A Cherry Medieval Magazine Rack From 1940 To 1960. The Origin May Be Biri Or Other European Countries (especially Good At Making Civil Furniture), Which Is The "reward" I Received For A Previous Commercial Shooting. Because The Size Is Really Huge, There Are Not Many Magazines That Can Fit. Therefore, It Is Convenient For Me To Take And Read The Sword Bag Used To Store Kendo Bamboo Sword, The Picture Core Of Previous Photographic Works, My Own Photographic Book And Paper Barrel.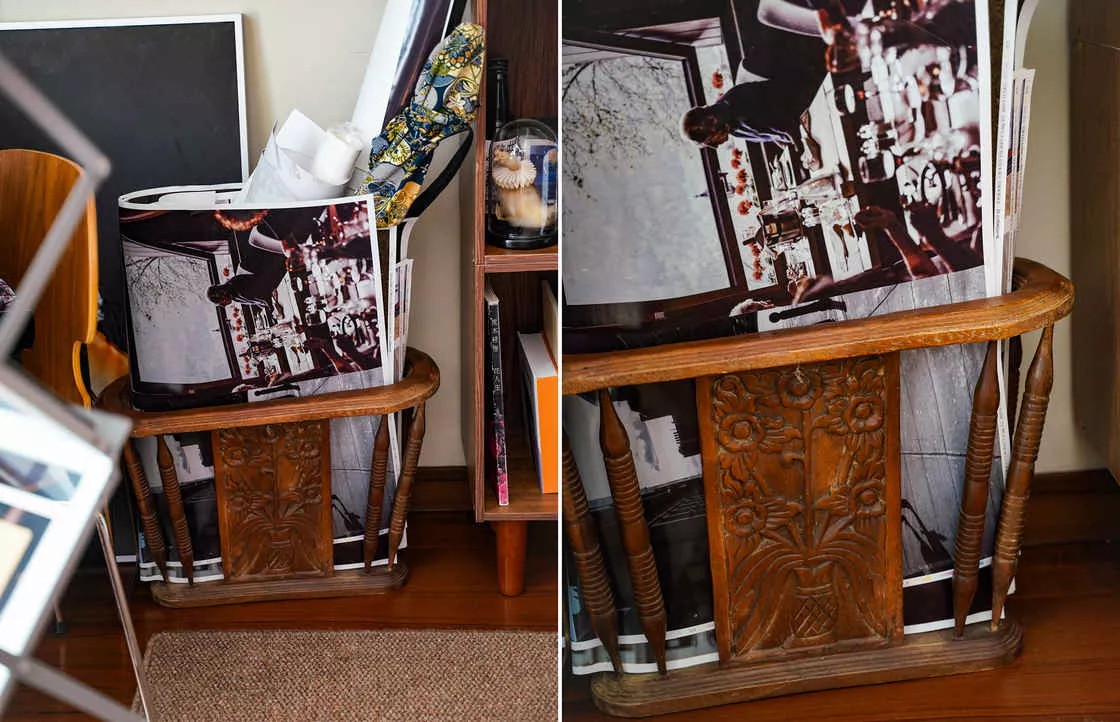 This "crucifixion" Ceramic Candlestick Comes From Germany In The 1950s And Is Usually Hung On The Wall. However, Recently, It Accidentally Fell Off When It Was Displayed In The Changing Home, Resulting In Part Of The Candlestick Breaking. Now It Can Only Be Used As A Decoration In My Cabinet. After The Closure Is Completed, Maybe You Can Take It To The Antique Shop Where You Worked Before For Repair, Add Some New Wax Oil And Cut A Small Candle Wick For Winter.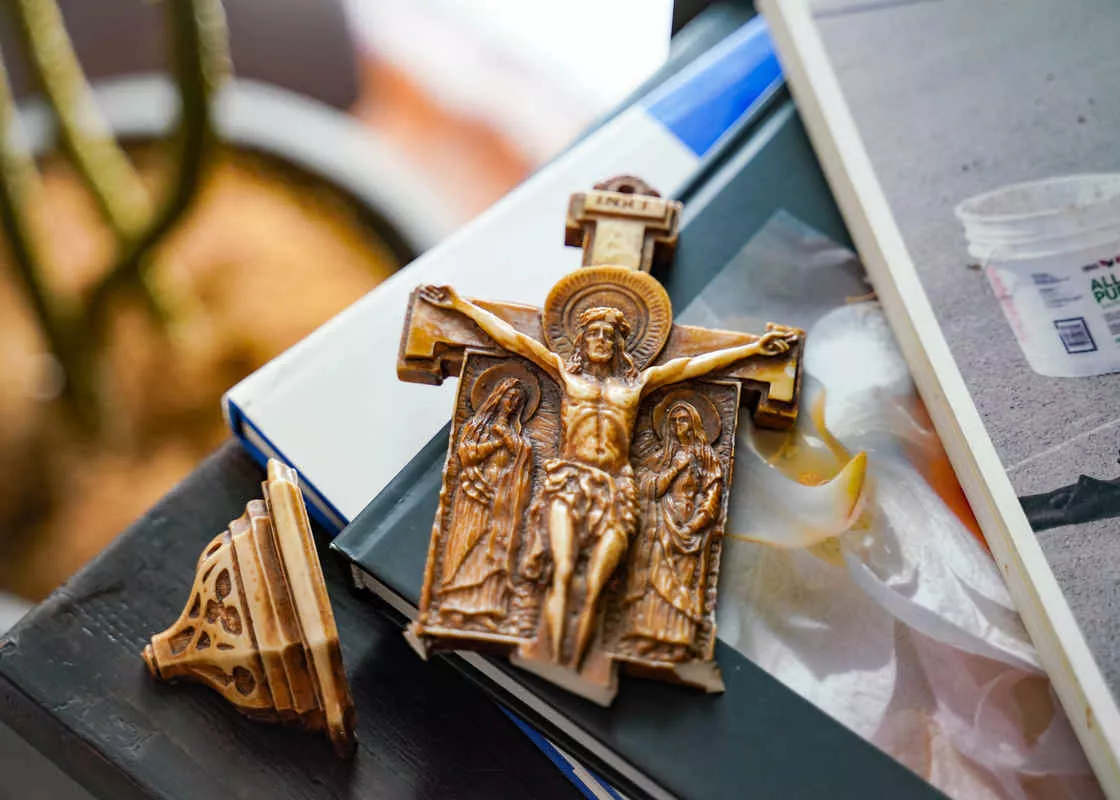 The Menu Clip In The 1990s Was Found When Studying In The United States. The Bite Force Of The Rusty Collet Is Amazing. It Usually Puts Some To-do Items And Note Paper. Unfortunately, The Sawdust Board In The Lower Half Of The Last Move Broke And Is Now Used To Clip Some Small Prints For Decoration; Copper Spoons Of The Same Era Were Collected From Old Stalls On The Streets Of Shanghai. They Were Used As Wax Containers By Me, And Even As Candlesticks That Must Be Placed Against Them; The Copper Candlestick For Another Long Pole Candle Is Also An Old Thing Returned From Europe. The Nine Tailed Plush Imitation Specimen Was Made In China In The Last Century.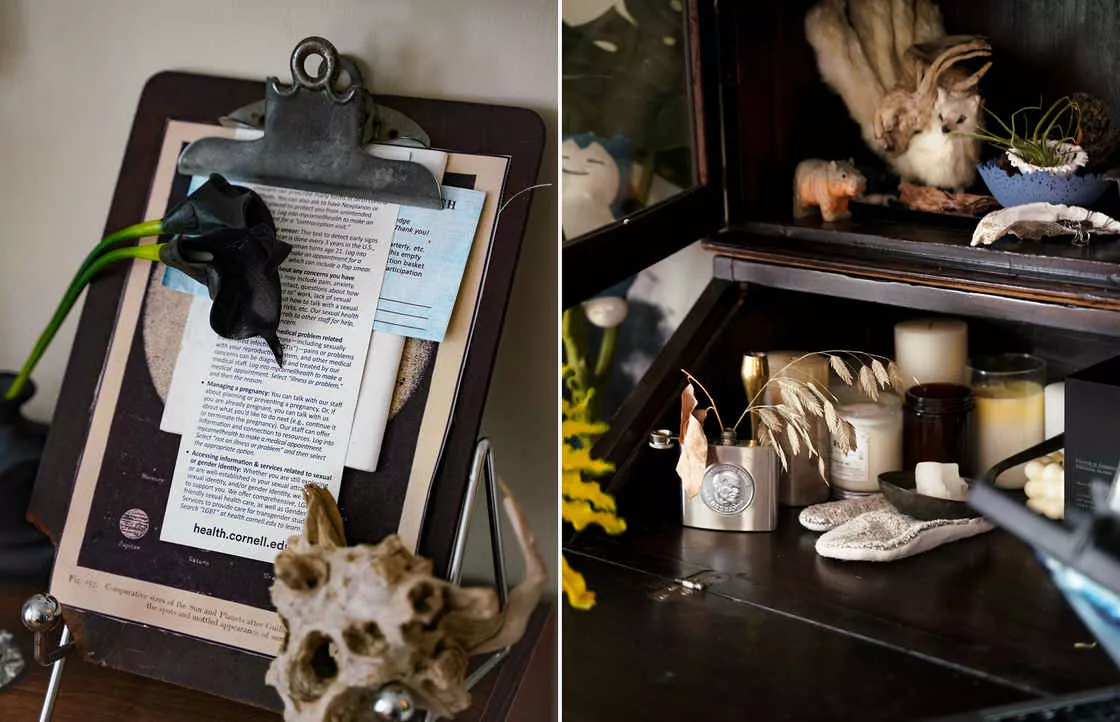 Personally, I Have A Little Bit Of Aesthetic Fatigue About The Space Stacked By Medieval Furniture. Of Course, It Is Undeniable That The Price Is The Biggest Barrier. All The Old Things At Home Were Acquired By Me By Chance, But I Have A Lovely Feeling Of Being Taken In.
How Can There Be No Art
---
A Photographer's Home Cannot Be Without Art, Although Then Again, What Is Not "art"?
I Have Also Collected A Lot Of Photographic Albums Or Art Related Books, As Well As Photographic Magazines Issued In The United States At The End Of The Last Century. They Are Displayed On My Self-made Lockers And Metal Magazine Racks. There Are Also Many Publications Related To Home And Life. When I Have Nothing To Do, I Look Through Them. Perhaps My Aesthetic Taste In Life Has Been Imperceptibly Improved.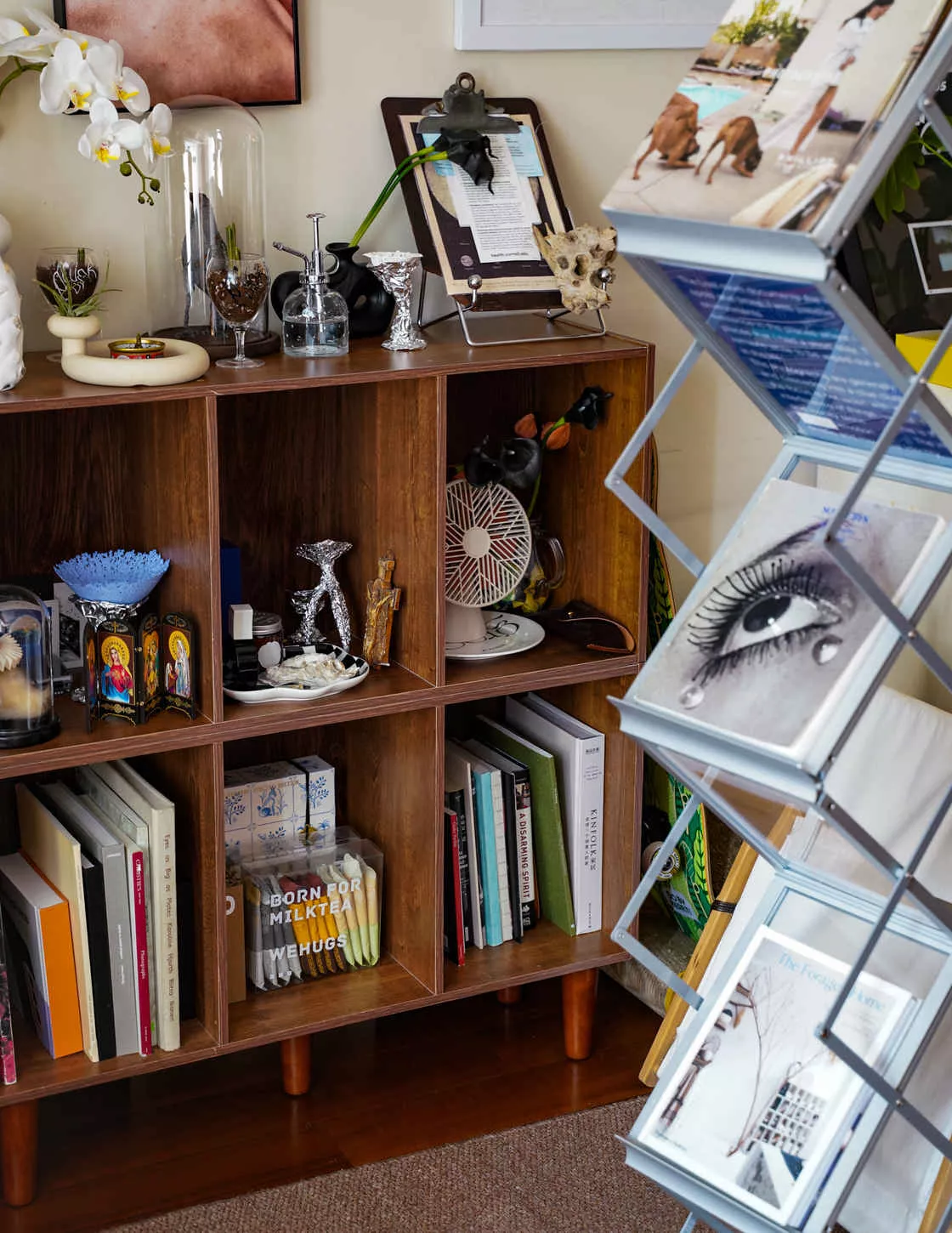 The Storage Cabinet Is Built Up By Two Simple Three Shelf Bookshelves. I Bought A Solid Wood Table And Fixed Its Legs At The Bottom. I Like To Exchange My Works With My Artist Friends, Whether Photography Books Or Art Micro Spray Works: The Framed Works With Signature Are From Domestic Artist Wu Yuhang, And The Picture Album Behind Is From Jo ã O Miguel Barros, While Drinking Coffee In Shanghai, He Was Very Generous To Share His Social Documentary Project Of Akupem Boxer In Ghana, Africa. The Reason Why I Am Most Interested In Ceramic Art Works Last Year Is That I Can't Directly Support The Efforts Of Other Artists To Purchase Some Artistic Works In The Future.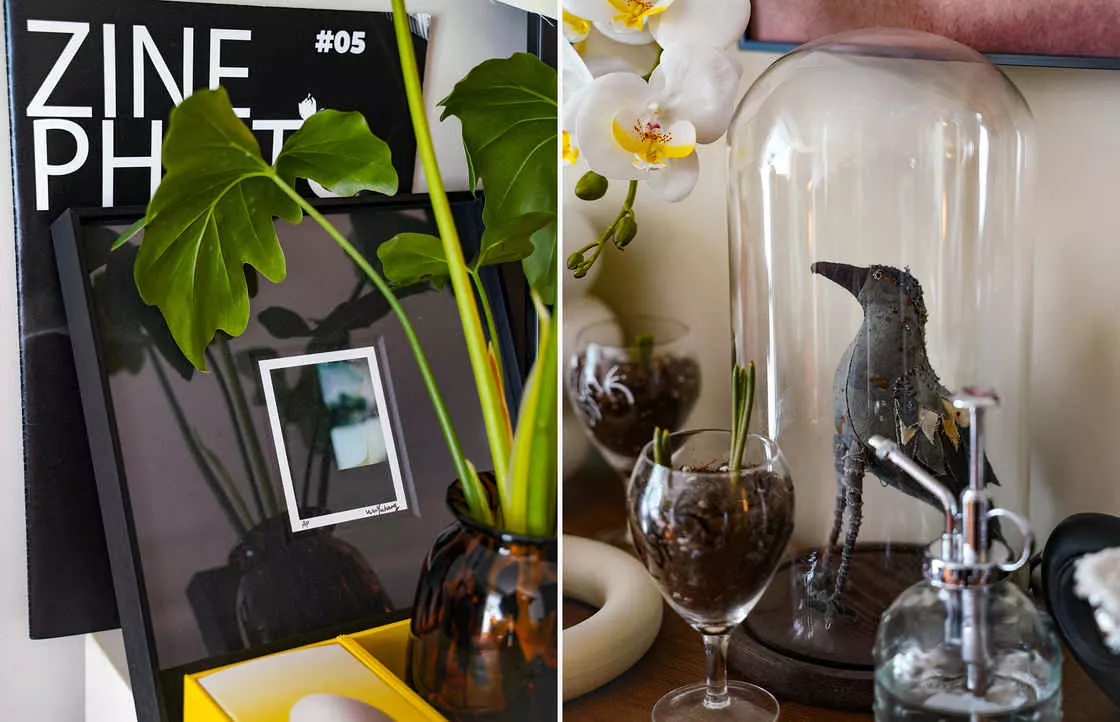 "Crow" Is Made Of Recycled Waste Materials From The Artist Shanzhi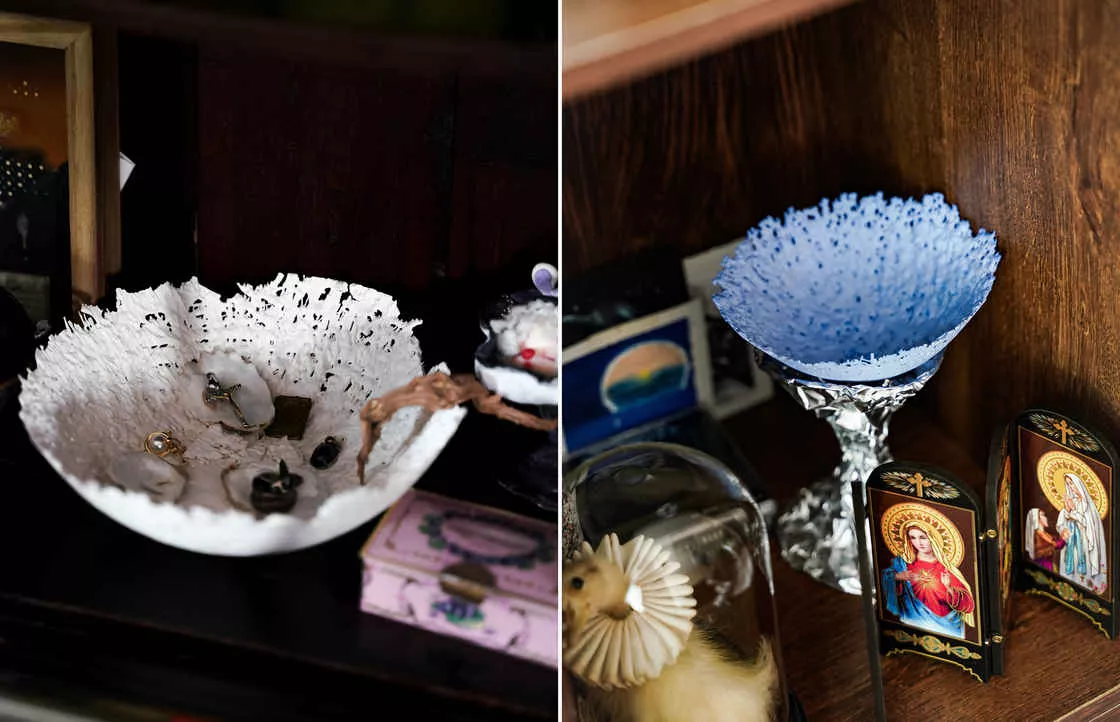 The Fragile Ceramic Works Come From The Artist Fan Wenxuan (Little Red Book @ Bingbingstudio), Which Looks Like A Pure Eggshell. The Hole Board On The Largest White Side Cabinet That I Used As Part Of My Jewelry Was Shared In Article 99 "new Gadgets" Of The Community. Compared With The Storage Function, It Is More Used For Art Decoration To Accommodate The Paper Materials Collected By Myself, Including Art Exhibition Manuals Miniature Decorative Paintings And Postcards Sent By Friends. Because It Is Made Of Iron Plate, The Nice Refrigerator Sticker Is Also Adsorbed On It By Me. Some Brooches Are Stored In The Shelf. Maybe It Can Also Be Used As An Inspiration Wall In Future Home Shooting, Which Will Be Updated At That Time.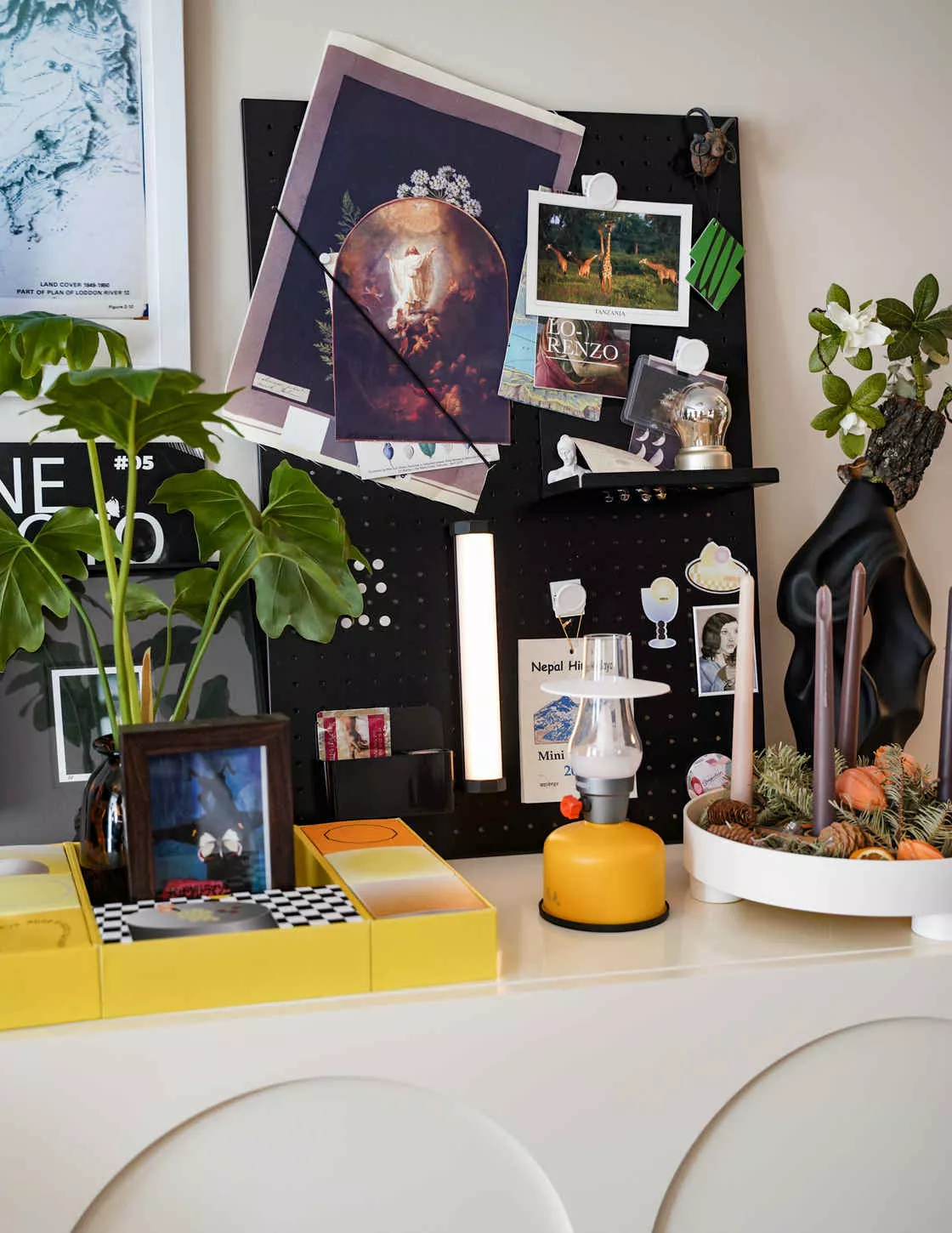 James Higginson Is One Of My Favorite Artists. His Artistic Views And Personal Experience Have Brought Me A Lot Of Resonance. His Apartment Has Also Given Me A Lot Of Inspiration, Not Only Decorative Paintings, But Also Some Special Materials Can Be Hung On The Wall To Create A Memorial And Atmosphere. "Home Can Also Be A Gallery".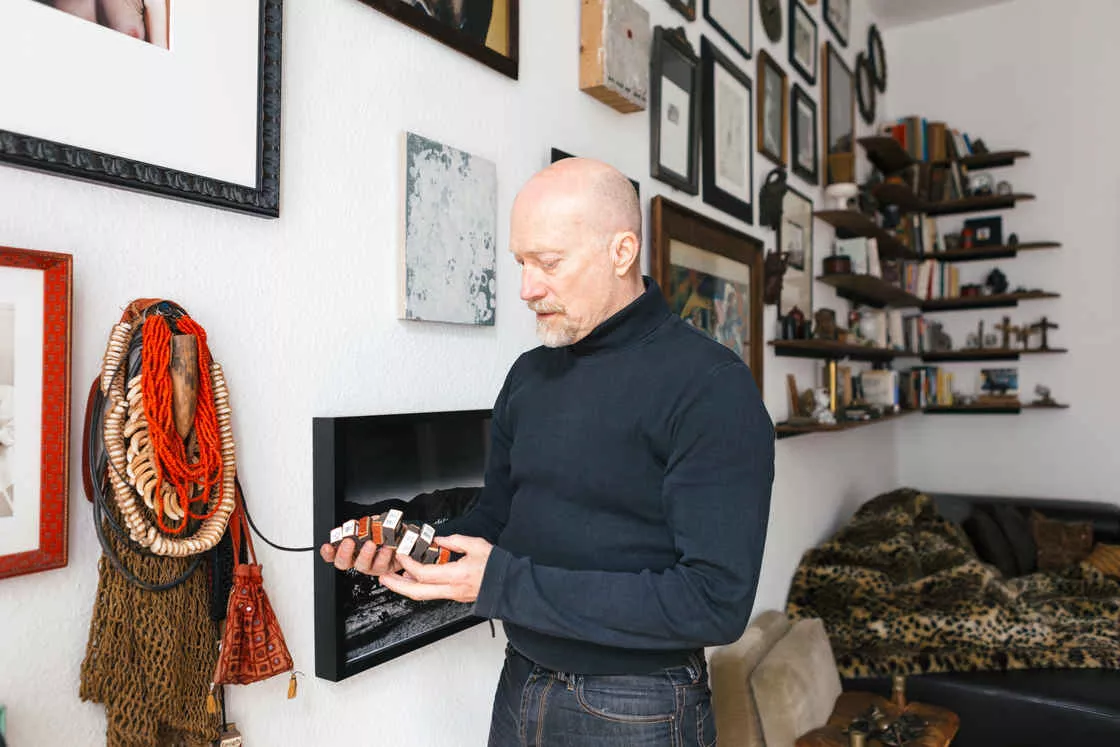 James Higginson, ©️ However, Due To The Outbreak And Closure Of The Epidemic In Shanghai, Many Purchased Materials And Output Decorative Paintings That Want To Experiment Again Are Stuck Halfway. Therefore, At Present, Except For An Old Print Of The Astrograph, The Other Works On The Wall Of My Home Are My Own Works. I Sorted Them Out From The Corner Stacked In Front, And Now It Seems That I Live In A Personal Exhibition Every Day.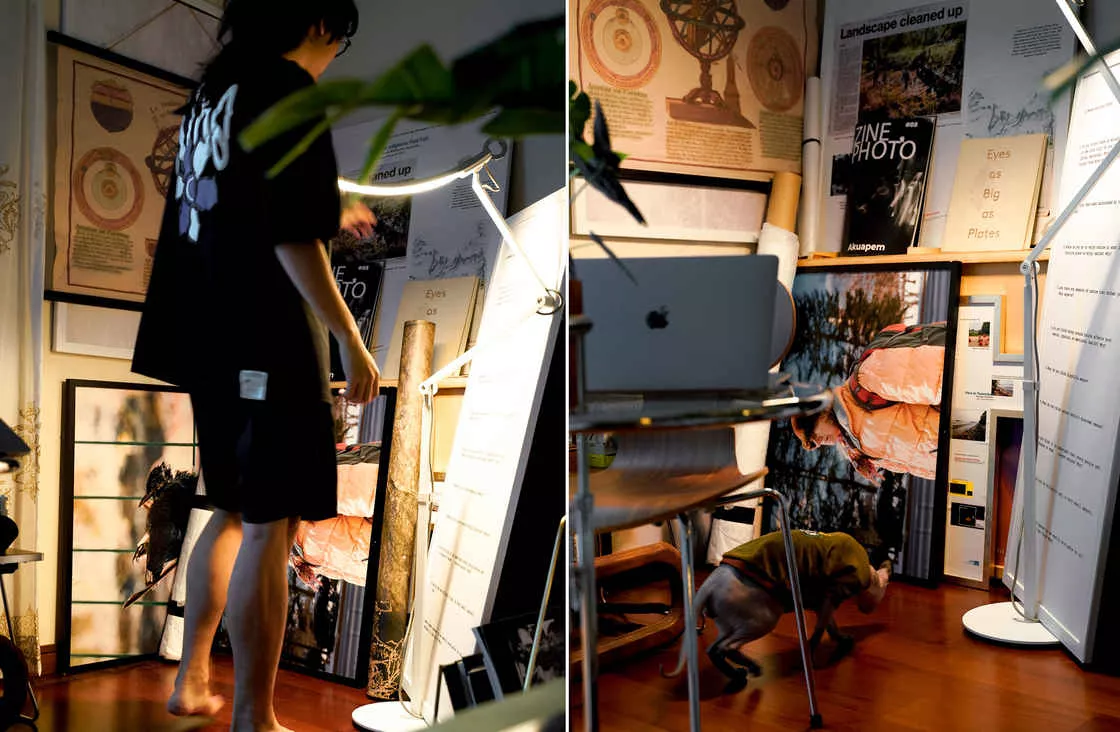 The Previous Output Works And Picture Cores Are Stacked In The Corner, Which Really Took A Lot Of Time To Select And Put On The Wall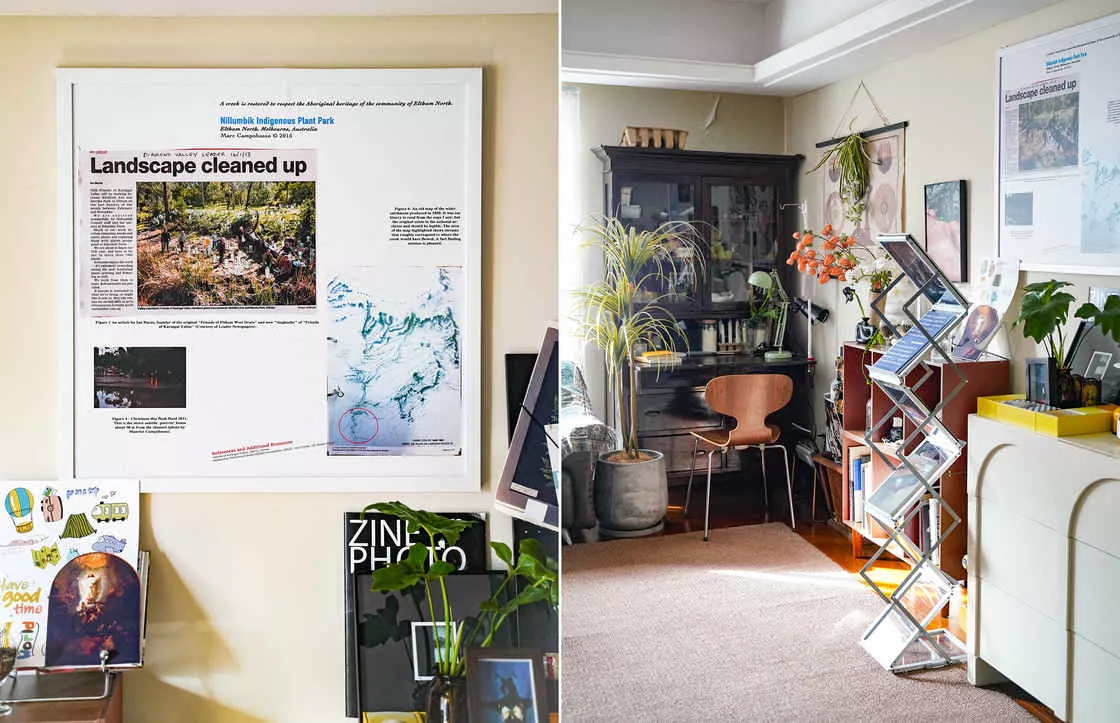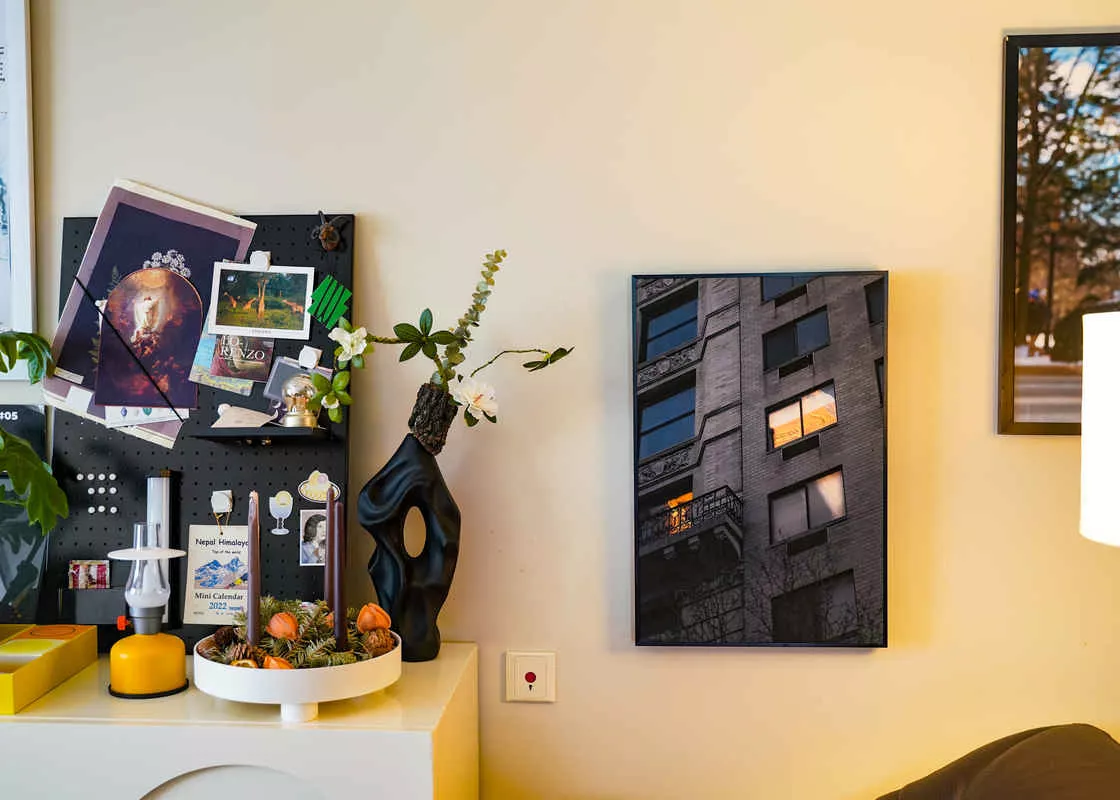 However, As A Creator, Filling The Space Where You Live With Your Creation Is Not Self Appreciation. Art Is Also A Medium For Making Sound. On March 8, I Hung Another Work Of My Own - "bird In Cage" On The Wall Of The Bathroom. The Bird Tied By An Iron Chain Is Both A Female Bird And A Dead Bird. You Can Empathize With Distant Suffering When You Are Naked And Tell Yourself That Some Things Can't Be Forgotten.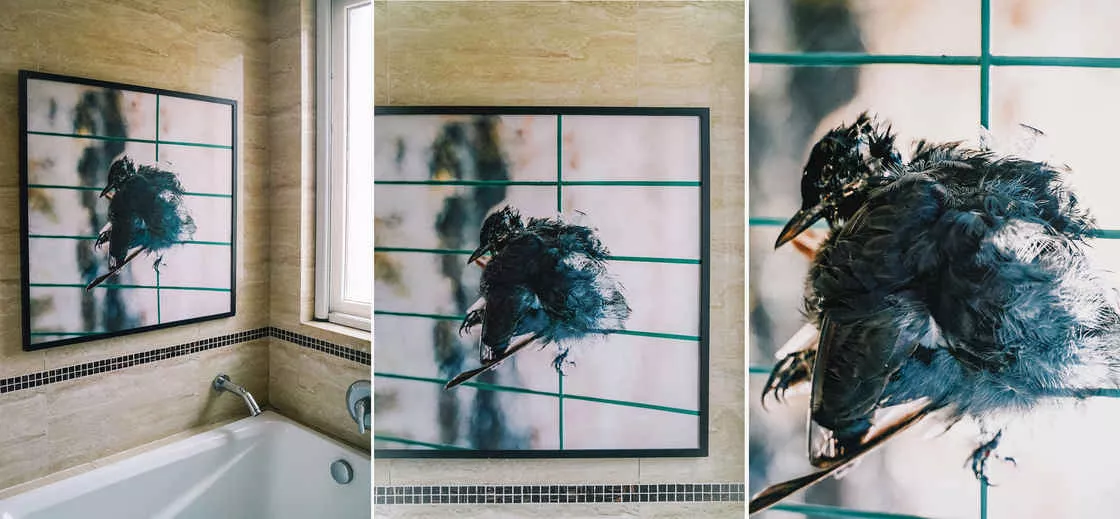 Surrounded By Everything You Like
---
After Raising The Turtle Backed Bamboo, Banyan And Sunflower At Home Last Year, I Once Suspected That I Might Really Be A "plant Killer", But I Really Love Green, And I Can't Live Without Green At Home. After Installing Some Simulated Plants, I Finally Decided To Try Again.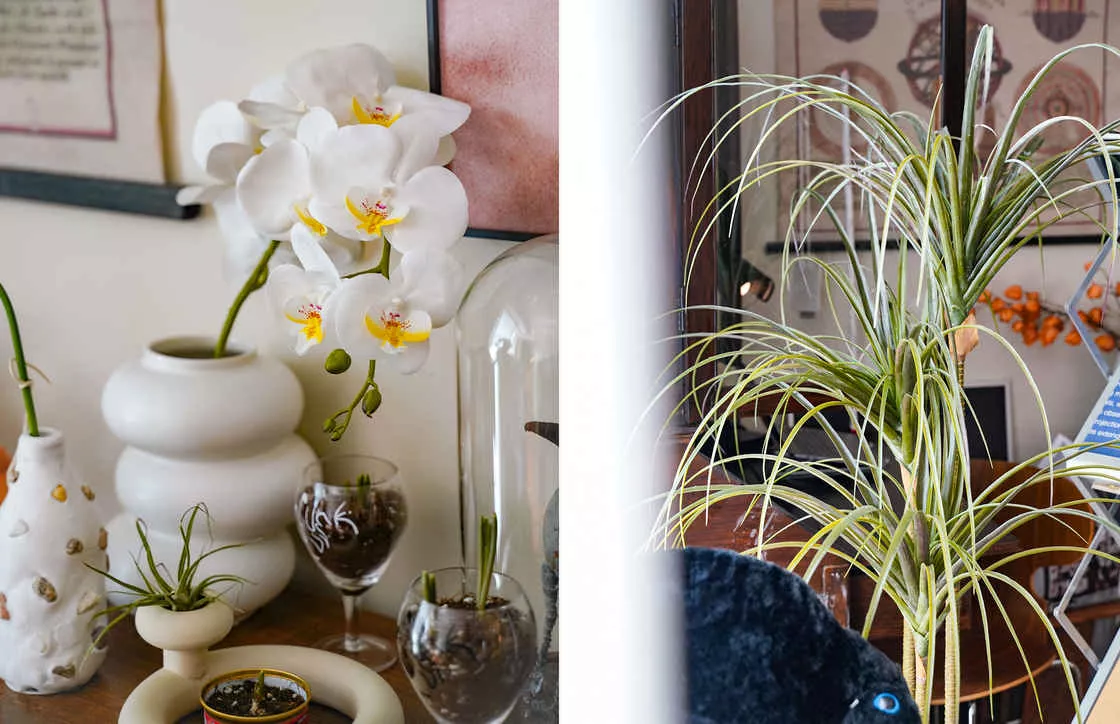 The Simulated Plants At Home Have Good Unexpected Effects. They Have Finally Made Some Improvement In The Spring Season. They Have Carefully Studied The Scientific Irrigation Methods. At Present, The Limited Plants In The Family Are Growing Well. It Has Been A Month Since The Chlorophytum Came Home. The Bright Green Is Very Healing To The Eyes. Pressing With Their Hands Has A Sense Of Vitality And Fluffy Before They Made Their Own Academic Achievements; When Little Chunyu First Entered The House, He Was Very Wilted. Recently, He Watched The New Bud From The Center Gradually Germinate Into A Tender Leaf. Hydroponics Seems Easier. Wait For It To Grow Up And Find A New Container For It.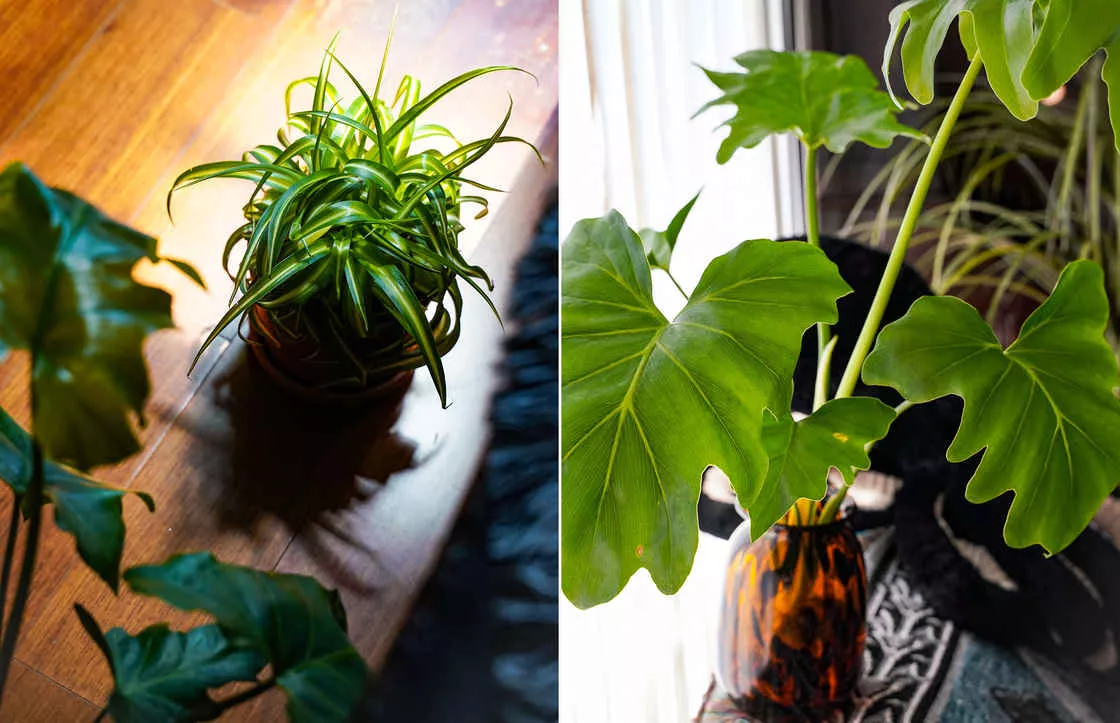 After Growing Up, I Had Almost No Experience In Cultivating Plants From Seeds. I Learned About "grape Hyacinth" From The Sharing Of Friends. I Purchased Five Small Seeds Before Closing. In The Past Two Weeks, I Watched Them Break Through The Soil And Sprout. Every Day Seems To Be A Little Higher Than Before. Now It Has Exceeded The Mouth Of The Cup, And I Look Forward To Flowering In April; Antler Fern Also Looks Like A Seedling. It Comes Home And Is Usually Raised In The Hanging Basin In The Bedroom. It Will Be Watered Thoroughly Every Few Days And Placed In The Bathroom For A While. Last Week, It Was Found That New Green Leaves Grew. After Unsealing, It Plans To Be Transferred To Board Planting And Then Put On The Wall; The Mini Air Pineapple And Fish Bone Arrows Belong To "inadvertently Inserting Willows", Playing The Green Dotted In The Eyes.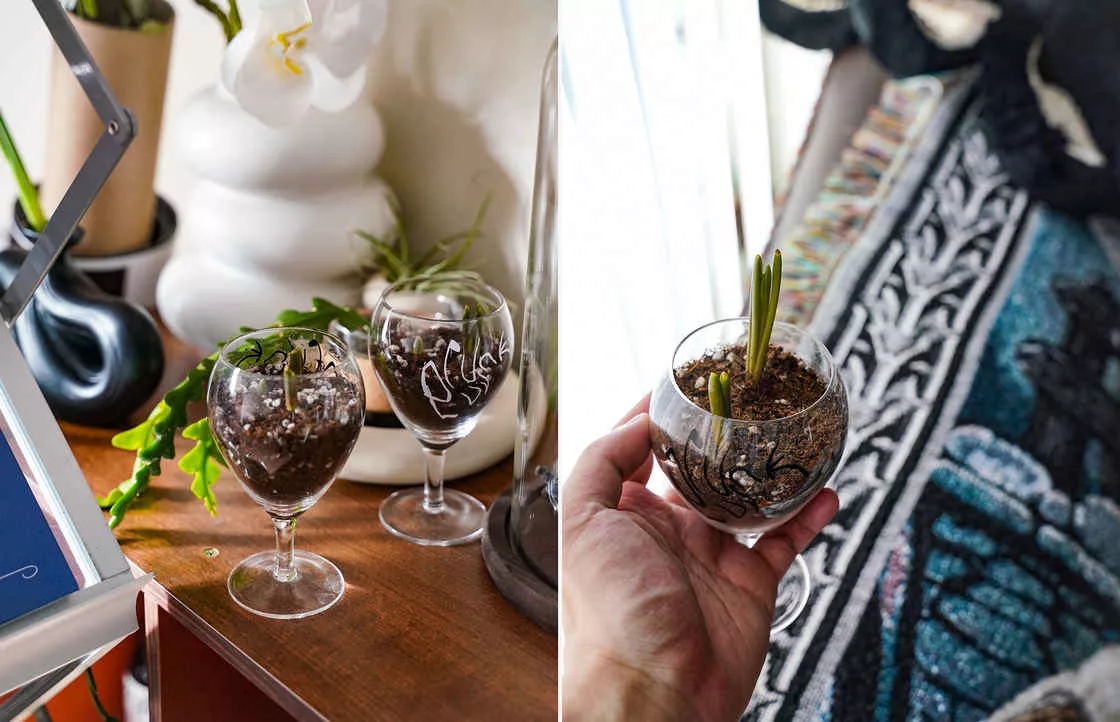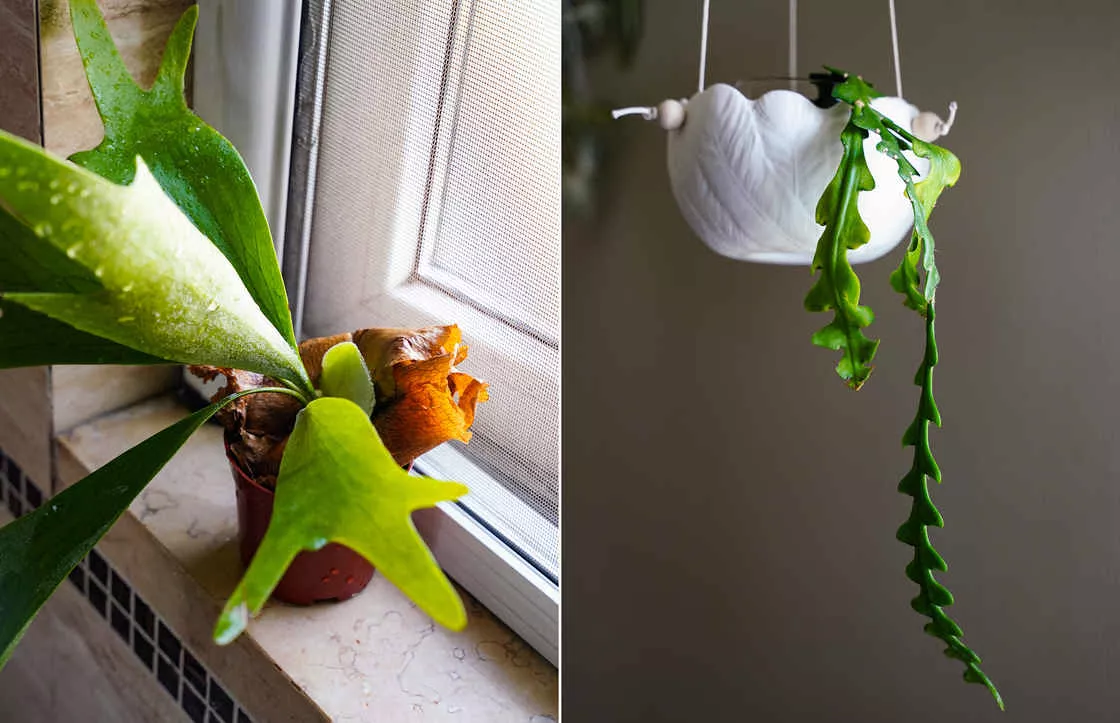 The Other Day, I Saw Louis Easton Share His Rekindled Enthusiasm For Plants In Recent Years. He Hosted A Seminar On His Social Account @ Theplantmon And Shared Everything About Plants, Including Landscape Consulting, Garden Design And Plant Education. "Plants Give Me A Feeling Of Touching The Earth. I Surround Plants Around Me And Use Them As Therapeutic Tools To Get Healing". This Sentence Is Also A True Portrayal Of The Role Of Plants During Home Isolation, Helping Me Resist The Mental Pressure Of Long-term Closure. In Fact, This Is Also The Real Response Of Restorative Topophilia.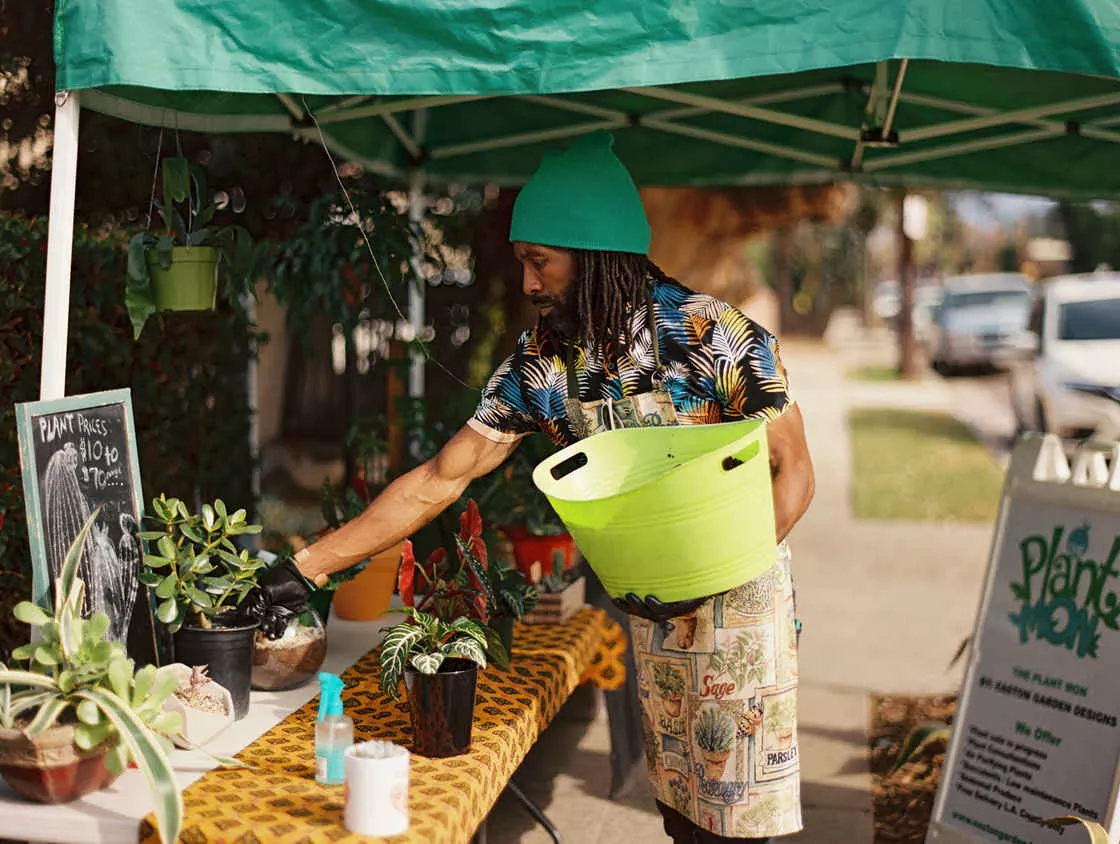 Louis Easton , ©️ I Need Some "media" To Link Me With Nature, Or To Evoke The Synaesthesia Of Past Wilderness Experiences. There Are Many Treasures I Collected From Nature In My Home, Such As The "skull" Found By The Beach Of An Island, Which Seems To Come From The Same Fantasy Creature As Another Bone Found By Pecuco. The Sea In My Hometown Has Fed Several Generations, And Oysters Are A Gift From Heaven, Foam And Oyster Shells Put Into The Sea Were Also Collected By Me; One Day When It Rained Heavily, I Picked Up A Piece Of Bark On The Grass And Curled It Into A Special Bracelet Shape After Drying. I Like It Very Much; There Are Also Mini Dead Trees Found In The Desert And Plant Leaves Brought Back From Countless Forest Floors.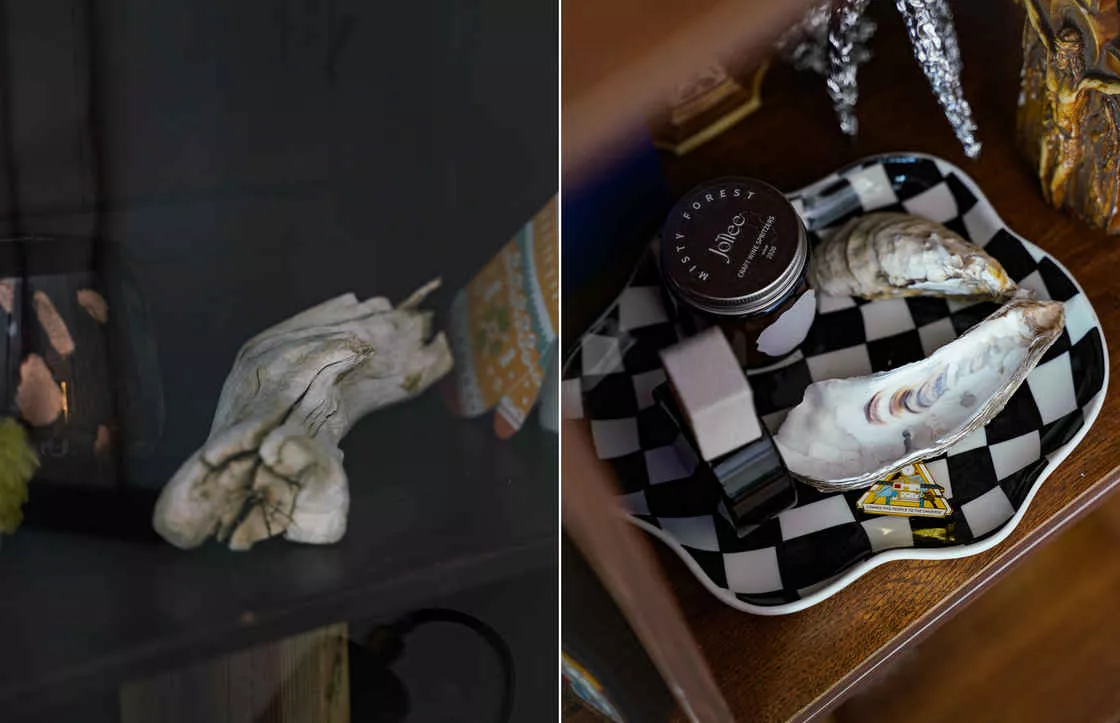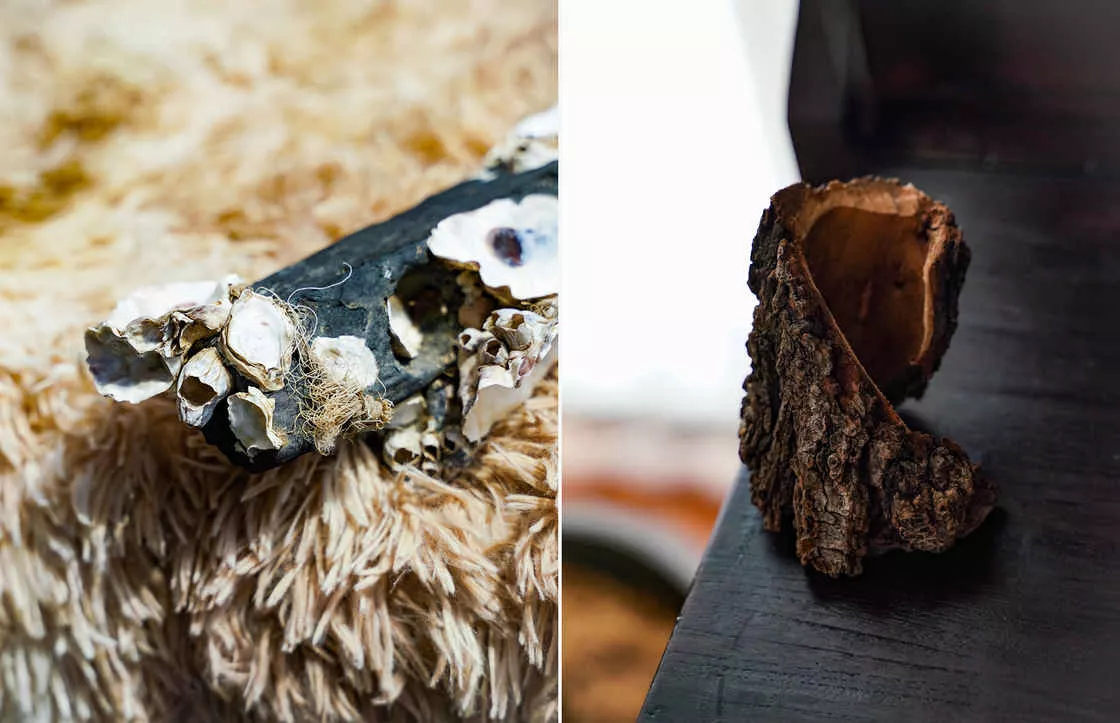 I Will Put The Gifts Sent By My Friends In An Easy To See Position. Exchanging Gifts Is Also A Habit I Formed After I Arrived In Shanghai. 2021 Is My Green Frenzy Year. The Manager Of The Antique Shop Gave This Green Dinosaur Doll; The Buddhist Bowl Brought By Friends From Tibet In Their Early Years Is Used To Store Their Own Customized Buttons; Another Friend's Irregular Clay Table Is Purple, Which I Also Like. The Sister Of The Reading Club Sends Me A Lot Of Books Every Year. Last Winter, I Found A Wine With "love Is A Hell Dog" As The Design Element, And I Left The Bottle As A Decoration; There Are Products Sent By Brand Friends From Time To Time. I Always Feel That My Living Room Is Surrounded By Love.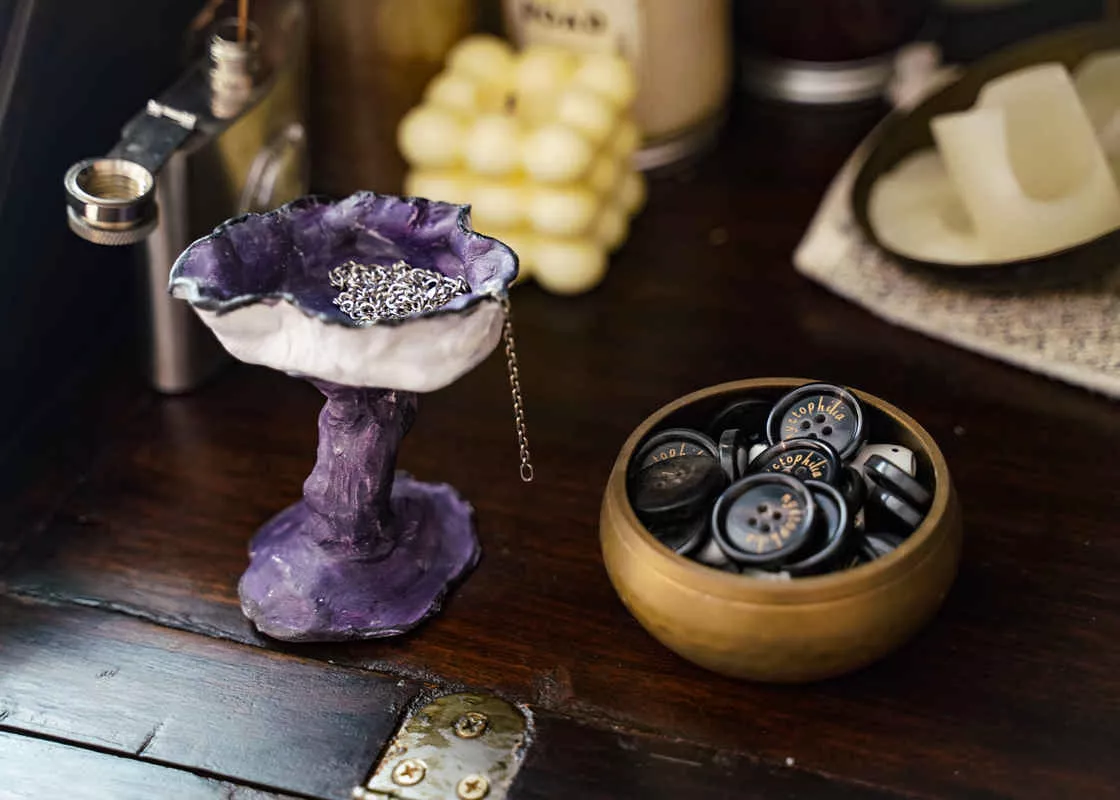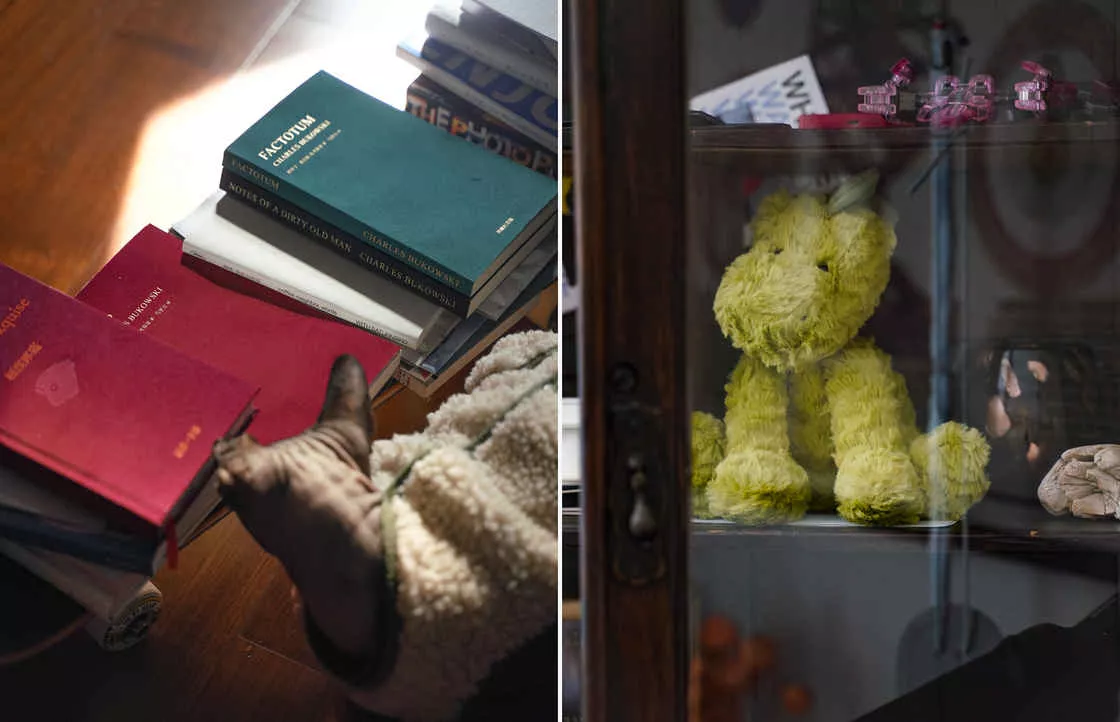 After Turning To Natural Research, I Also Fell In Love With Specimens. There Was A Seed Specimen Box Presented By My Friends In The Treasure Cabinet. In The Early Years, My Colleagues In The Antique Shop Brought Back A Duck With An Opera Pleated Collar In An Antique Shop In Britain. He Said That After So Many Years, I Finally Found A Friend Suitable For Gifts. This Duck Was Also Used In Commercial Photography, Which Is Very Suitable For The Blurred And Playful Visual Style. On The Eve Of The New Year, I Received A Butterfly He Was Looking For, The Greeting Cards Are Also In The Cabinet.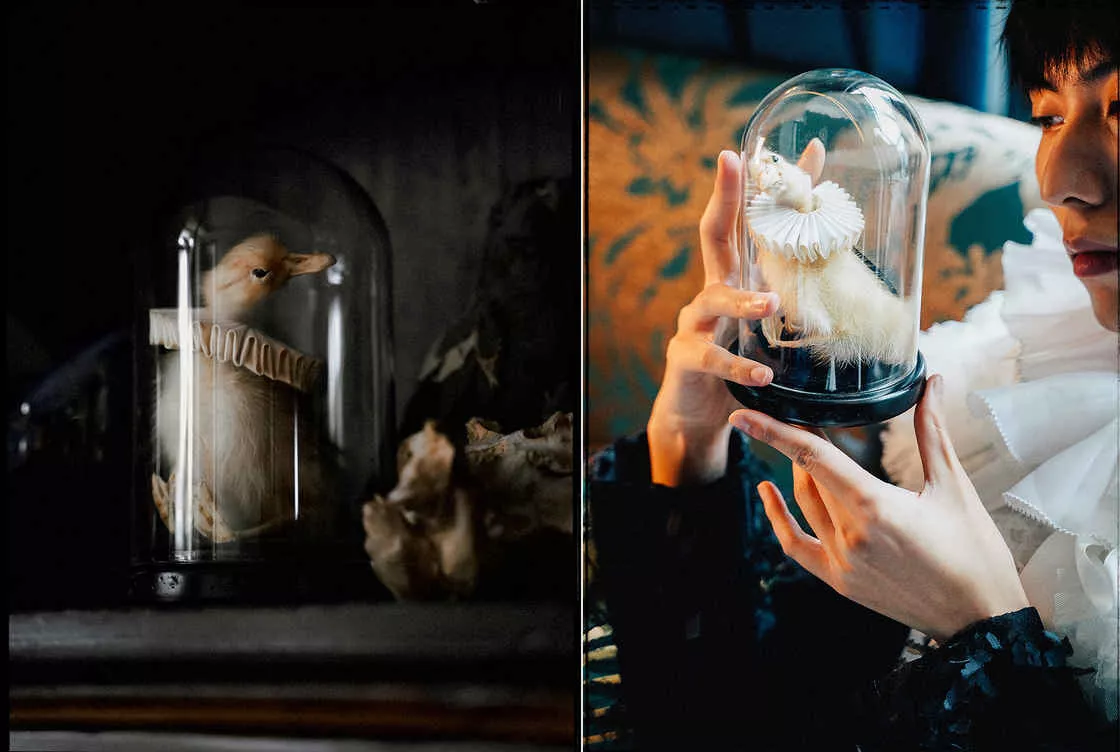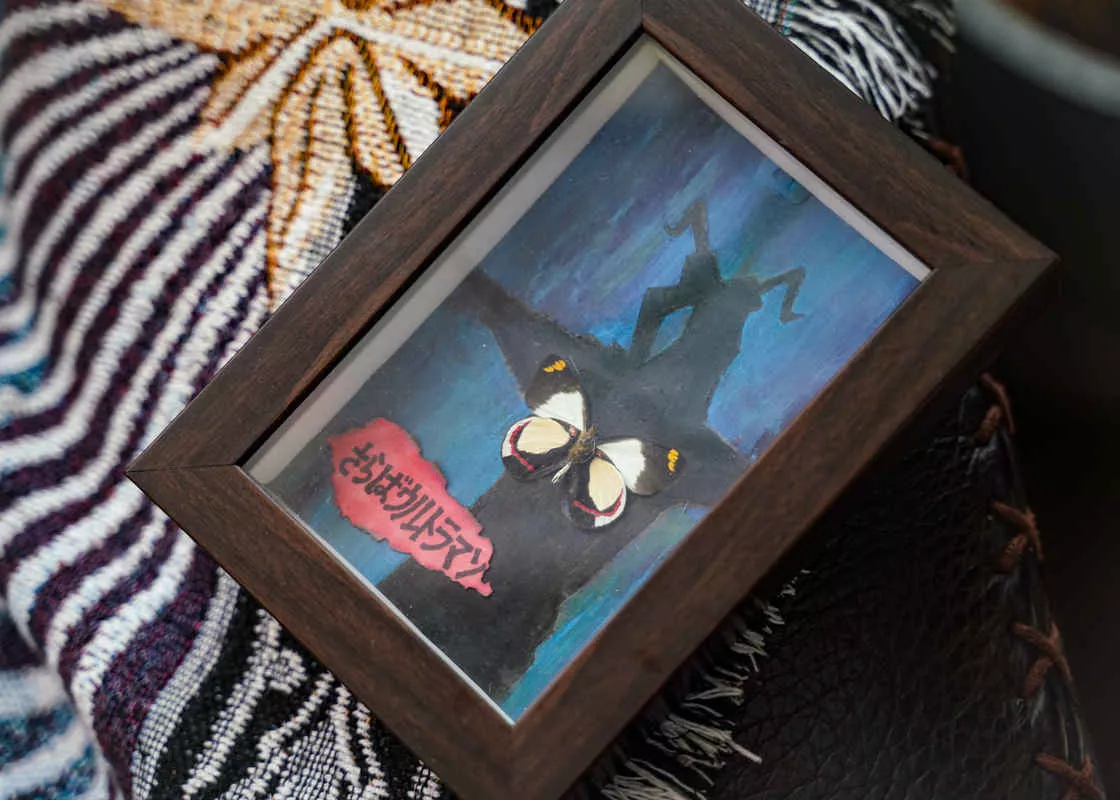 Yes, Altman Is Also Our Common Hobby. The Biggest Specimen In The Family Is The White Fox Purchased From The Herbalist Azi. It Comes From Her Series Of Letters From The Small Forest. The Style With More Mystical Style And Masculinity In Taxidermie Naturally Wins My Heart, But It Is A Little Too "mainstream" In China. Azi's Works Have Some Delicate Feelings, I Can Feel Them Living Around You In Another Way, With A Certain Natural Flavor That I Prefer. The White Fox Itself Is Also A Small Warm Lampstand. I Put It On The Desktop Of My Bedroom And Can See It When I Open My Eyes.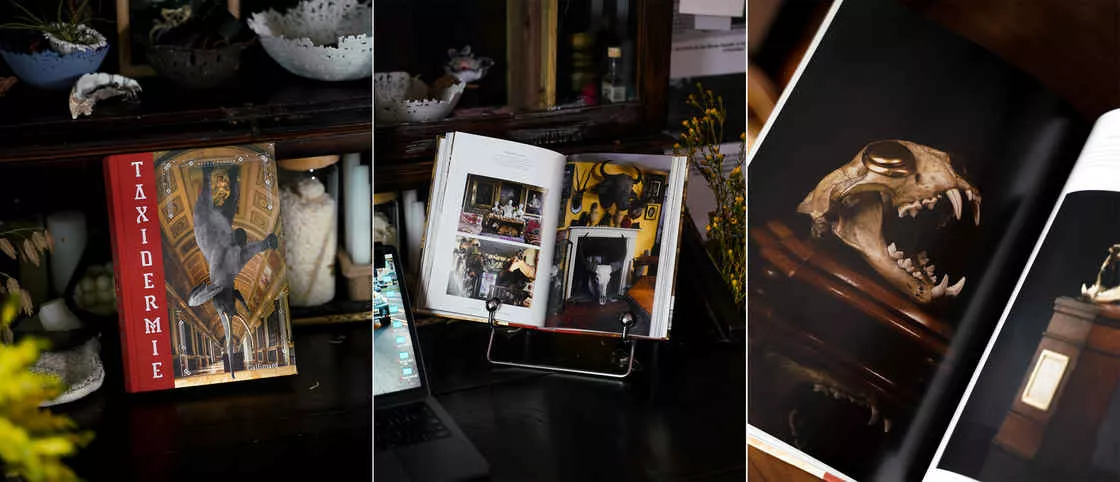 Edited By Alexis Turner, Founder Of London Taxidermy, From Luxury Goods To Indoor Furniture, From Museums And Galleries To Professional Collectors, As Well As Contemporary Artists Cai Guoqiang, Kate McGuire, Neil Harmon, Charles Avery, Thomas Grunfeld, Wim Delvoye, Etc., London Taxidermy Can Be Described As The Ceiling In Animal Specimen Art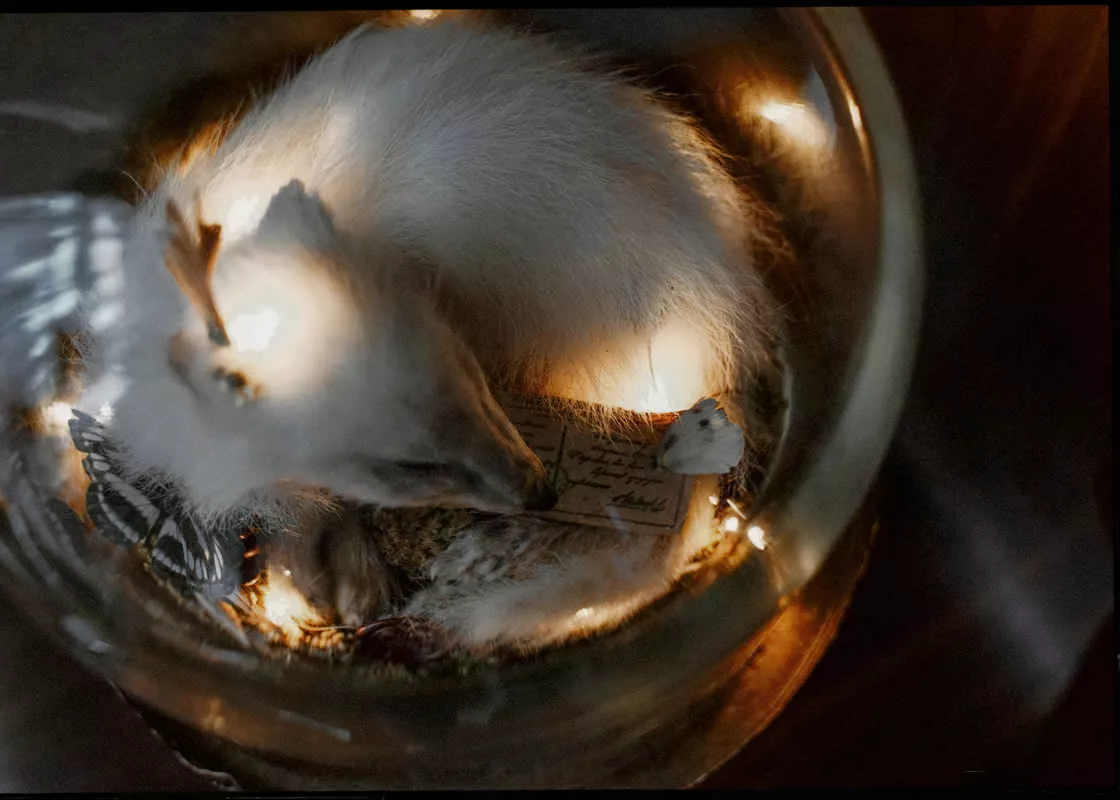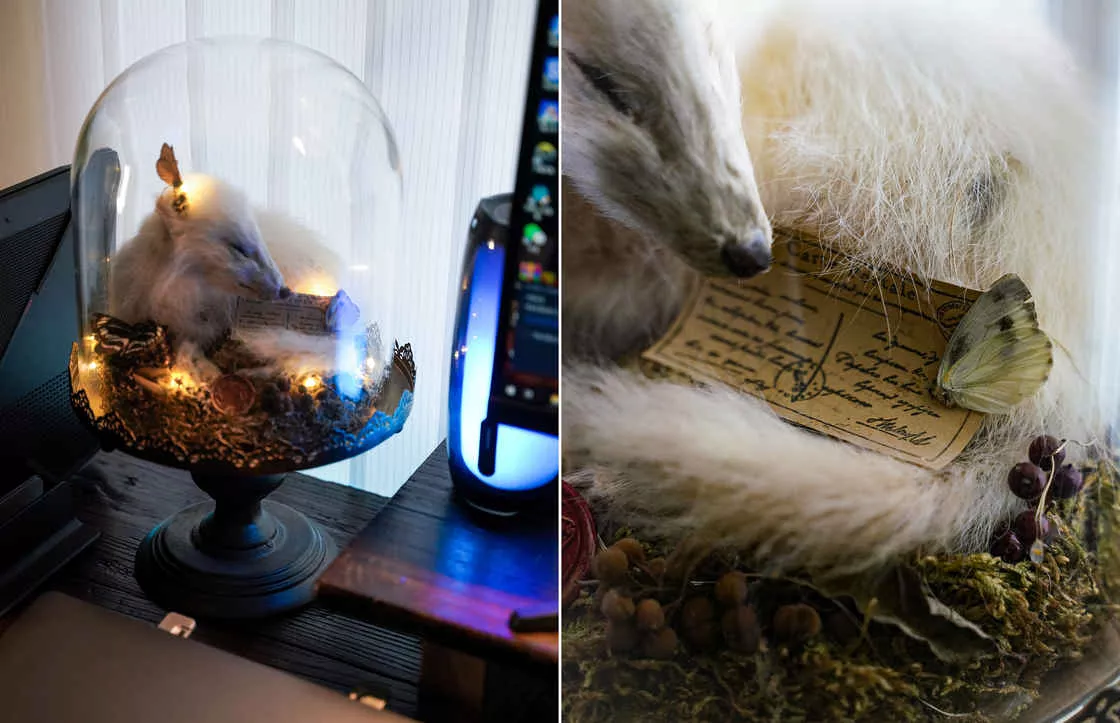 As For The Workbench In The Bedroom, To Be Honest, It May Be Better To Call It An E-sports Area. In My Early Years, I Also Worked As A Digital Editor For A Period Of Time. I Had Similar Hobbies Or Some Kind Of Technology Mania With Many Boys Of Science And Technology. This Area Also Made Some Changes During My Stay At Home: First, The Original Curtains Of The Landlord Were Removed, Customized Texture Vertical Shutters Were Installed, And The Display Was Padded Up With Walnut Shelf, While The Texture Is More Suitable For The Desktop, The Mechanical Keyboard Can Finally Be Stored In A More Inner Position; BenQ Screenbar Halo Is The Main Light Source Of This Desktop. Everyone Is Familiar With The Otter Supervisor On The Lamp. It Was Given By Old Mai When Visiting The Minority Office; I Pasted An Atmosphere Light Band Behind The Table. I Would Choose The Blue-green Constant Light Effect At Ordinary Nights. The Bluetooth Speaker Chose JBL Pulse 4. All The Wires Were Stored In The Cable Slot Under The Table. These Simple Desktop Configurations Are Enough To Have A Very Immersive E-sports Experience At Night.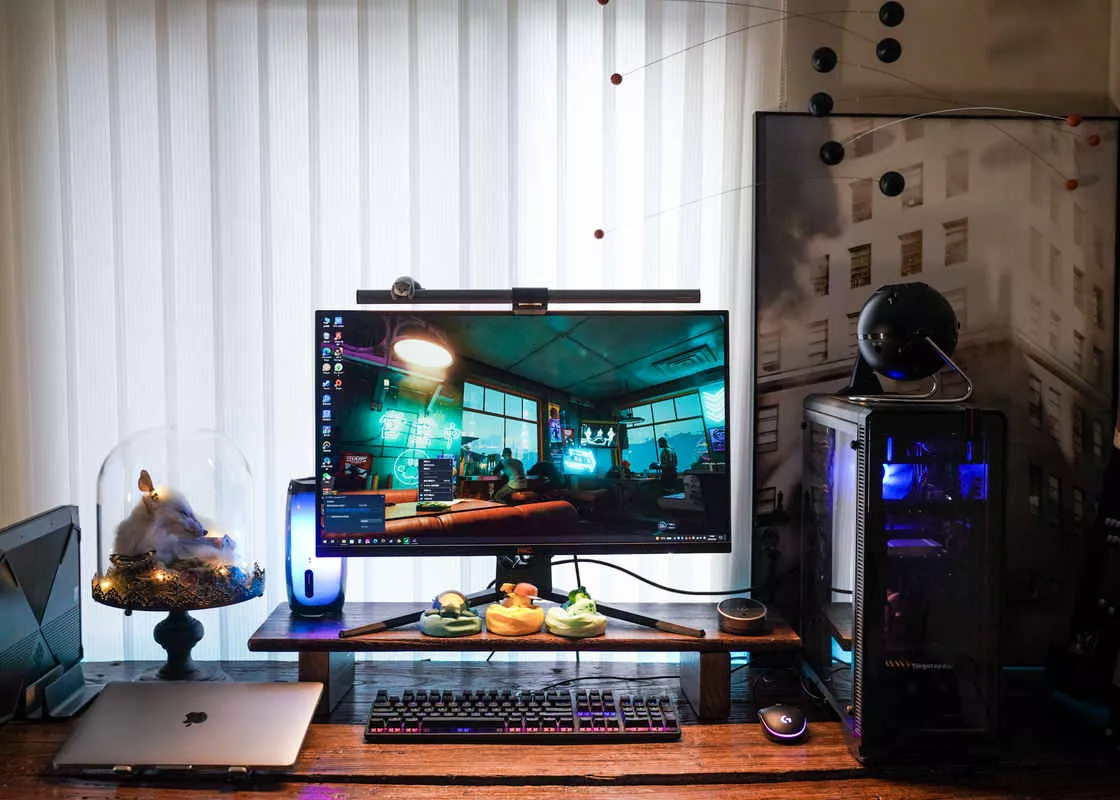 Because My Chassis Is A Relatively Low-key And Simple Black System, There Is A Geng Ghost Hidden In It. Ghost Treasure Can Also Be Hidden In The Dark; Sega's Planetarium Is Placed On The Chassis As A Decoration, Which Is Not Used Too Often To Project The Stars On Weekdays. As A Decoration, It Has The Medieval Temperament Of Some Early Scientific And Technological Products; The Pendant Is DIY Made Of Purchased Materials, Using Wooden Balls, Acrylic Paint And Fishing Line. The Original Is Flensted Mobiles In Denmark. The Large Artistic Spray Behind It Comes From The Previous Photography Project Restrained Orders, Named "American Women In Silk Stockings". Hanemler Art Paper Combined With Collection Level Mounting Can Really Give Even Very Daily Photography A Certain Sense Of Staring Charm, Maybe I'll Have A Chance To Write An Article About Decorative Painting Later.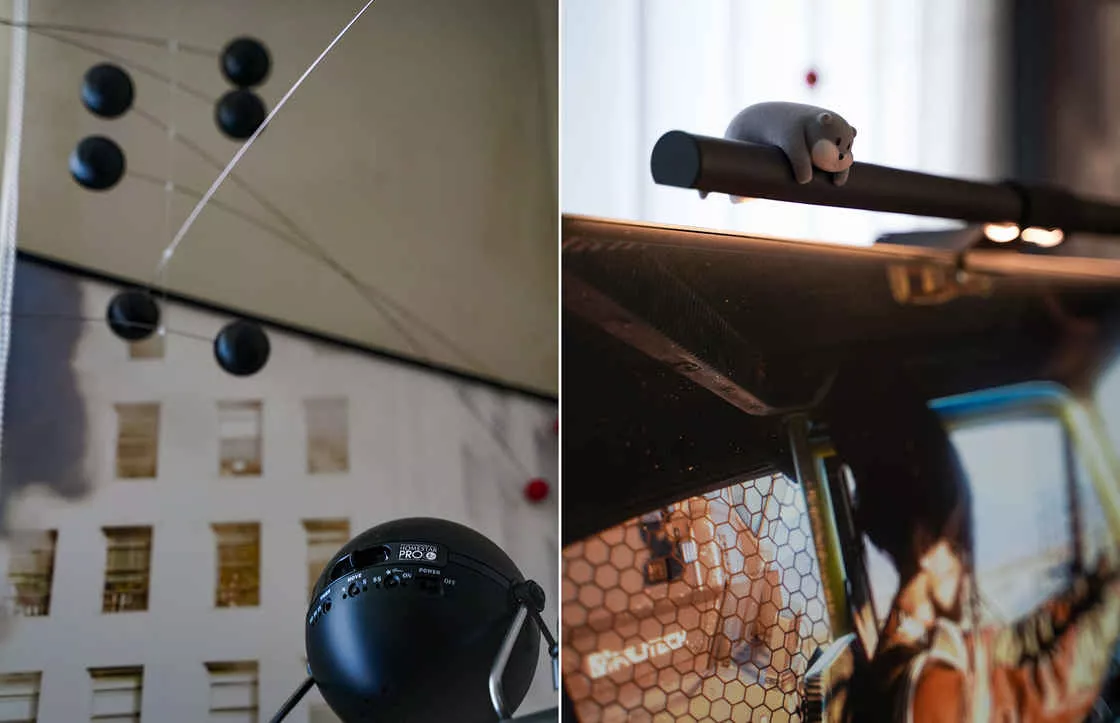 The Original Plan Also Wanted To Make Some Modifications To The Dining Area And Living Room At Home, Such As Making A Simple Indoor Camping Area And Trying To Make Some Simple Furniture. Unfortunately, The Epidemic Closure In Shanghai Was Too Sudden. As Of The Writing, I Had Been "staying At Home" For More Than A Month, Logistics And Express Delivery Stopped Very Early, And Materials And Tools Could Not Arrive At Home. However, Fortunately, The Super Large Sisal Carpet Was Made To Disperse The Smell Before Closing. At Least It Can Achieve "low Living" In The Living Room: Living On The Same Level As The Cat, The Floor Mats And Pillows Placed In The Shopping Cart Can Only Wait Until The Follow-up.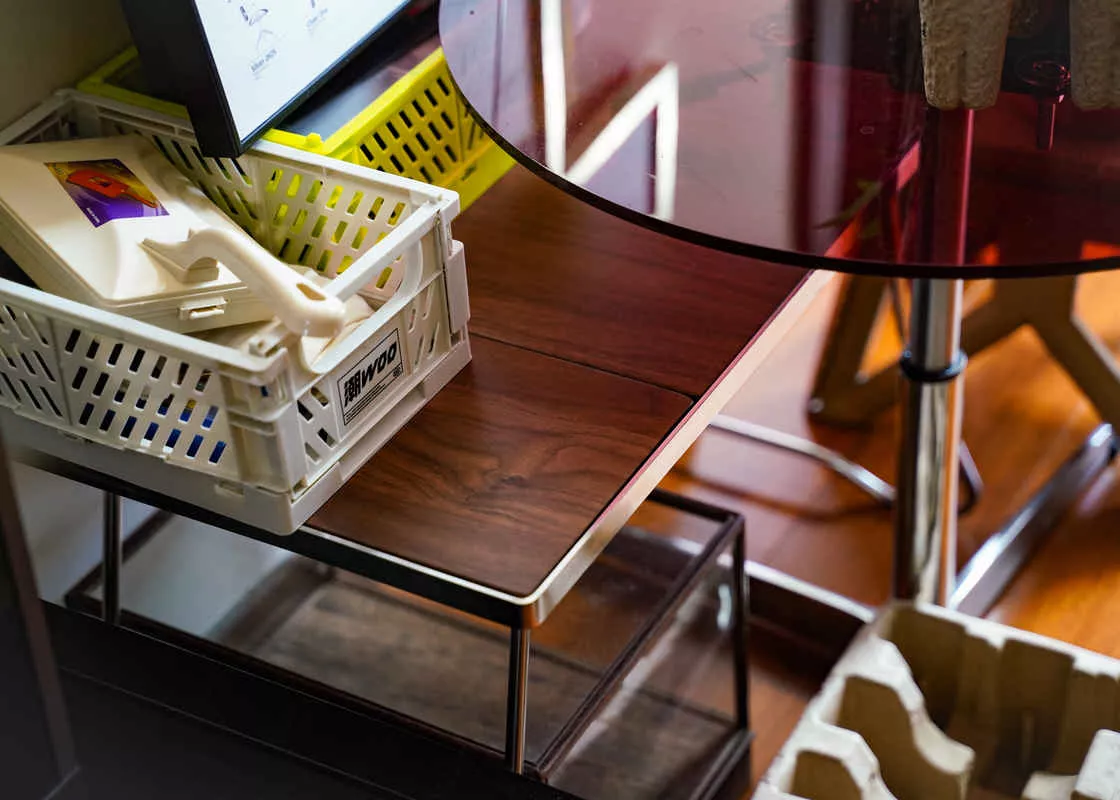 Walnut Camping Folding Table, Customized Acrylic Glass And Tea Table Made Of Metal Cross Chair Legs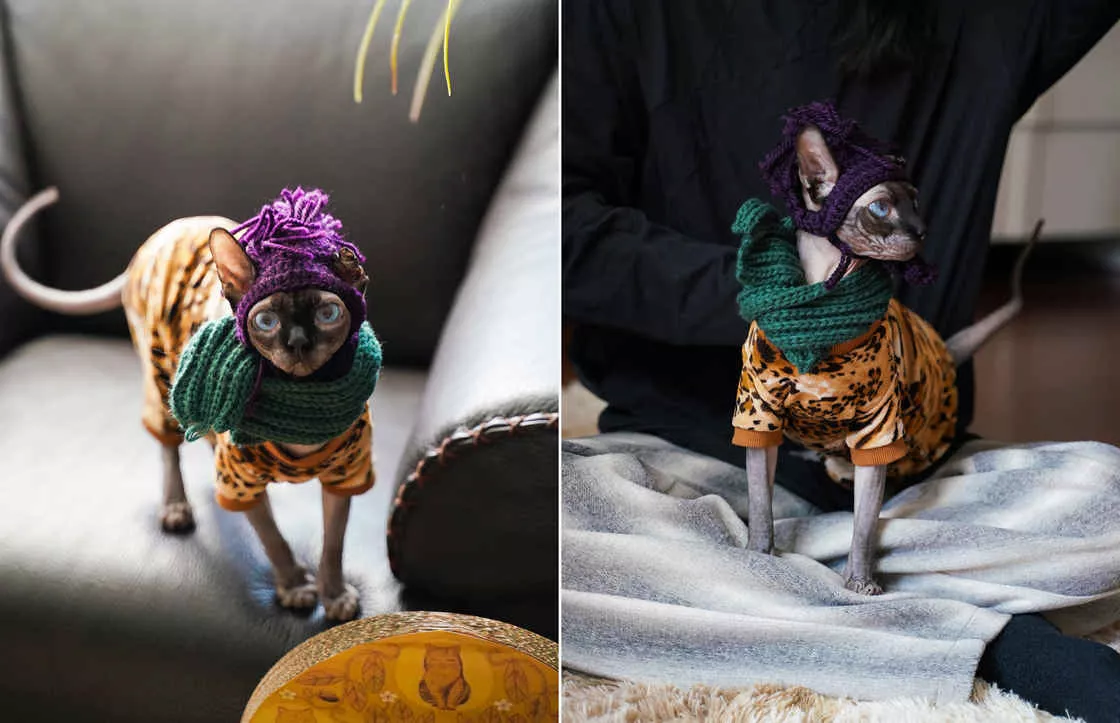 Carpet Can Better Make You And Your Cat "live On The Same Level" And Become Interested In Home Aesthetics. In These Years, You Still Envy Other People's "unique" Conditional Space, Such As A Foreign House With Bright Lighting, High-rise And Beautiful Floors, A Yard Surrounded By Plants Or A Large Enough Living Area, Or A Fascinating Quiet Style, Cave Hardcover Or French Life, But When We Begin To Change The Living Environment, We Can Personally Feel Where Our Needs Or Thorns Are, And Slowly Confirm Our Taste And Aesthetics In This Process.
This Is Another Inward Journey. In Such A Fast-paced Era, I Have More Freedom To "do Nothing". The "mind Drifting In The Ocean Created By Itself Is Much More Interesting Than Wandering With A String Of Hyperlinks". Those Objects That Either Carry Memory, Stimulate Creativity, Or Represent The Love From Others Fill My Living Space, Every Day Can Be Surrounded By Unique Fetters And Happiness. Although Such Efforts Have Just Begun, We Also Look Forward To More "everything We Like" Around Us In The Future.
Live A Good Life! Friends.