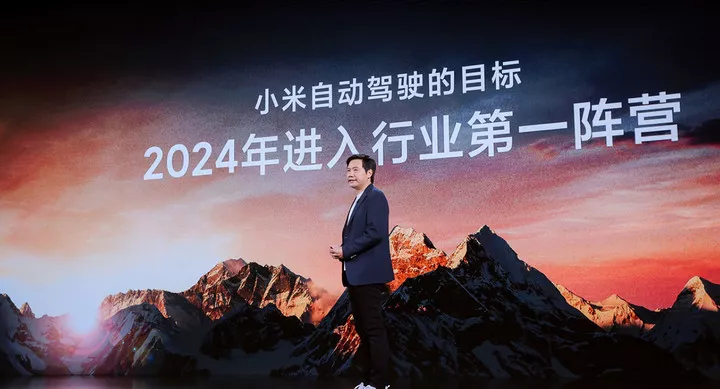 On the evening of August 11, 2022, Lei Jun left less than 30 minutes of his annual speech, which lasted 2 hours and 40 minutes, to put Xiaomi Auto's progress in the "One More Thing" session, yet it was the session that received the most attention. Before formally reporting on the progress of the car, Lei Jun said.
I'm not going to be debunking rumors or introducing any new developments for the next two years, and we'll certainly keep you posted on a regular basis when the time is right
This shows that Lei Jun knows that building a car is complicated and needs to be more focused.
Two years later and then report back is 2024, Lei Jun set " Xiaomi self-driving full-stack self-research algorithm, the goal of 2024 into the first camp " plan. In the speech above Lei Jun showed the Xiaomi self-driving video of the actual test, the question arises, how far away from the goal?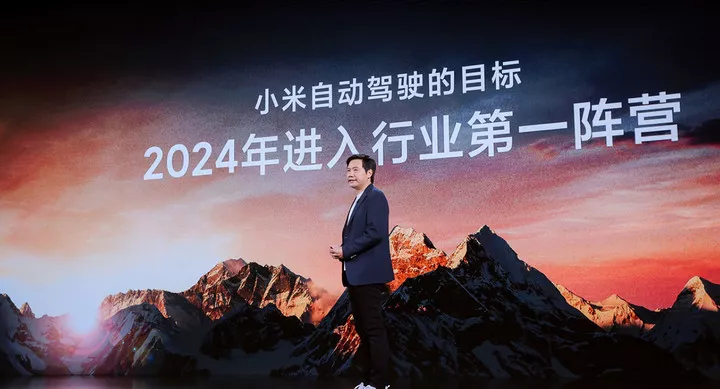 To start with the conclusion, the Xiaomi self-driving video shown on August 11, 2022 is analyzed as an example, doing urban and high-speed self-driving and autonomous valet parking, but with a number of flaws, however the upside potential is great.
Before we analyze it, let's review the key timeline since the official announcement of the car build 500 days ago.
March 31, 2021: Xiaomi officially announces car manufacturing, Lei Jun presses his reputation into battle, expects $10 billion investment over next 10 years
April 6, 2021: Lei Jun invites celebrity car blogger @HanLu to a live broadcast, reveals first car is a sedan or SUV
June 3, 2021: Zongmu Technology Raises $190 Million in Funding Led by Xiaomi Cheung Kong Industry Fund; Company Focuses on Autonomous Driving
July 28, 2021: Lei Jun Weibo posts job ad for 500 employees to research L4 level smart driving capabilities
July 31, 2021: Ganfeng Lithium Announces RMB 375 Million Investment Led by Xiaomi Changjiang Industry Fund and JIAMU Venture Capital, Company Focuses on Lithium Series Products
August 2, 2021: Geometry Partners Raises Nearly RMB 400 Million in Funding, Xiaomi and Others Fund Its Development of 4D Millimeter Wave Imaging Radar
August 18, 2021: Honeycomb Energy underwent an industrial and commercial change, adding a number of shareholders including Xiaomi Changjiang Industry Fund, increasing its registered capital to RMB 2.811 billion and focusing on battery R&D and production
August 23, 2021: Wisdom Interoperability (Aipark) Announces Strategic Investment from Xiaomi, Focuses on Smart Parking Management System
August 25, 2021: Xiaomi acquires "DeepMotion" for $77.37 million to focus on vision-based autonomous driving solutions
Nov 16, 2021: Woosai Technology Receives $70 Million in Additional Financing from Xiaomi Production Investment, which is also a LIDAR Supplier to Azera
November 27, 2021: Xiaomi Auto settles in Beijing Economic Development Zone, with a capacity of 150,000 units in Phase I and Phase II respectively
April 26, 2022: Xiaomi released a tender for suppliers of high-precision machining centers for large die-cast parts, while according to Die Casting Weekly, Xiaomi has signed a contract with a domestic die-casting machine manufacturer to purchase oversized tonnage die-casting machines from it for integrated die-casting
June 23, 2022: Continental has revealed that it has received an order for a 5R1V multi-sensor fusion system solution from a high-profile new powerhouse in China, helping the company to build an L2-class project that will go into production in 2024.5R1V is a 5 millimeter wave radar + 1 8 megapixel front view camera solution, with the camera coming from Continental's joint venture with Horizon, Continental CoreSmart Drive, based on the Horizon Journey 3 chip
July 8, 2022: A netizen photographed a car labeled 'Xiaomi Self-Driving Test' with LIDAR arranged on it, Xiaomi responded 'This is us testing self-driving technology, not our car'
July 28, 2022: According to Sina Technology, the Xiaomi car project entered the soft-mode car off-line phase in September, followed by the field test and winter test cycle as expected, with a team of more than 1,600 people.
The company's main goal is to provide a solution to the problem of the problem.
Team analysis: perspective scenario as a long-term goal, guessing two possibilities for production vehicles
In the middle of his speech, Lei Jun said.
We have acquired Deep Motion Technology and formed an elite team of over 500 people, including 50 top experts in the fields of autonomous driving hardware, perception and control algorithms, and high precision positioning. **
Here's the highlights for you Deep Motion, 500 people, high precision positioning.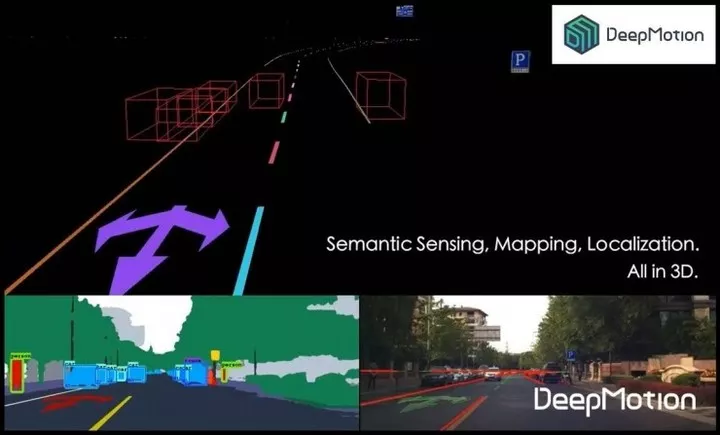 DeepMotion Technology DeepMotion is the only company related to the autonomous driving field that Xiaomi has acquired in recent times, the others are all in the form of investment. Regarding DeepMotion's positioning, co-founder Cai Rui had an interview with Lei Feng's New Smart Driving in 2018, in which he said "to provide customers with perception and positioning services related to autonomous driving on the basis of high precision maps", while regarding the company's core technology, he believes "the team has more accumulation in the field of deep learning and stereo vision".
When talking about CyberDog, Lei Jun said "CyberDog vision system has made Xiaomi's mobile phone's everything chasing focus function, Xiaomi autopilot is progressing very fast thanks to Xiaomi AI lab founded in 2017", here again to give you delineate vision system.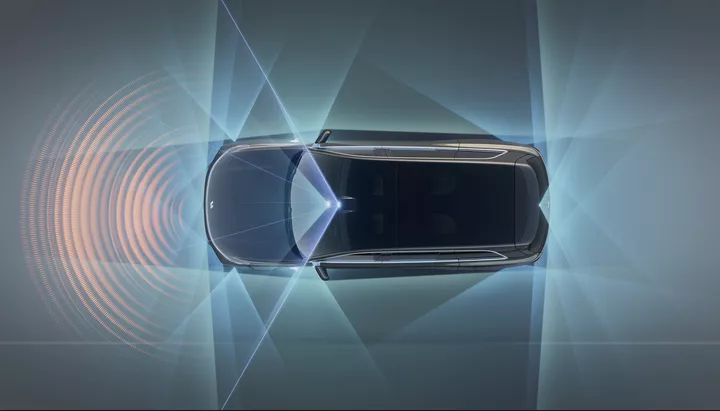 Therefore, it can be guessed that the future development of Xiaomi Autonomous Driving is dominated by the vision multi-sensor fusion solution. When the vision solution is mature enough, LIDAR may be abandoned by Xiaomi Auto.
Although the current flagship models of Azure Xiaoli are equipped with LIDAR, there is a strong emphasis on vision solutions, for example, the current Ideal L9 has removed the four corner millimeter wave radars, keeping only the forward-facing millimeter wave radar and making full use of the 8-megapixel perception camera, while Tesla is more aggressive and gradually removing the forward-facing millimeter wave radar as well. One of the major benefits of a pure vision solution is the low cost, which facilitates large-scale commercialization.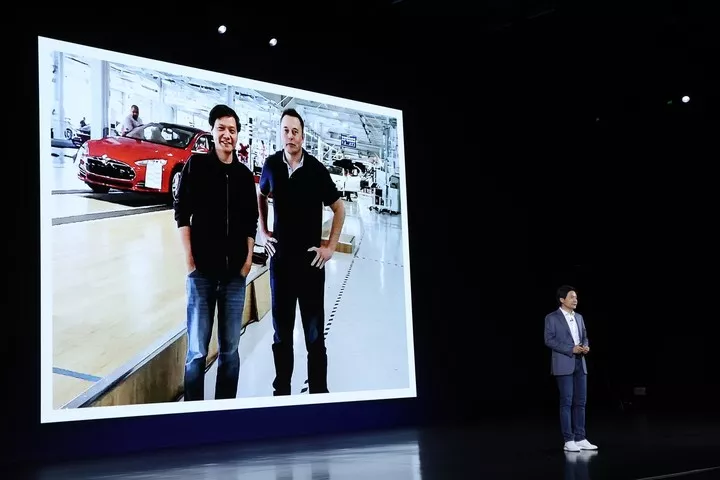 The company's first visit to the city was in 2013, when it became the owner of a Tesla.
Based on Continental's description of the 'much-anticipated new powerhouse' in the 2024 model year, with a 5 mm-wave radar + 1 8-megapixel front-view camera solution, one could hazard a guess at one of Xiaomi's first mass-production models.
So it can be further speculated that Xiaomi's first production models of assisted driving, based on high precision maps, have two versions, of which the entry version uses a vision-based millimeter wave radar + HD camera multi-sensor fusion program, while the high version adds LIDAR. Why is there speculated to be a LIDAR version, because Lei Jun currently has high hopes for autonomous driving to be the first echelon in the country, and the launch showed a LIDAR-equipped test car above.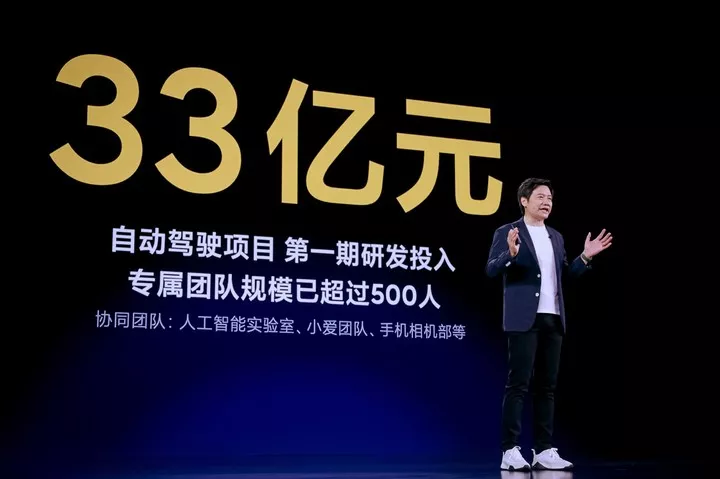 The 500-person team revealed by Lei Jun, compared to the 500-person team of Xiaoli, is the entry level of Xiaomi's first tier team. But it's been less than two years since Xiaomi announced it was building a car, so such a scale is rare.
May 26, 2021 - Ideal Auto CEO Li reveals 300-person self-driving team, plans to increase to 600 by year-end
On August 12, 2021, Azera CEO Li Bin revealed during the Q2 2021 earnings call that the self-driving related team size is around 500 people, with plans to increase to 800 people by the end of the year
In an interview at the 8th China Electric Vehicle Council 100 Forum on March 26, 2022, Xiaopeng's CEO said that Xiaopeng's entire R&D and data staff for intelligent assisted driving is close to 1,500 people in size
Actual performance: quite a distance from the top tier
For the autopilot, we hope to get very close to the skillfulness of a veteran driver driving, able to put and take away depending on the complex local road conditions.
In this scenario, the Xiaomi self-driving test car is not too fast or too slow when turning around, finding the right time to merge into the traffic, which is reassuring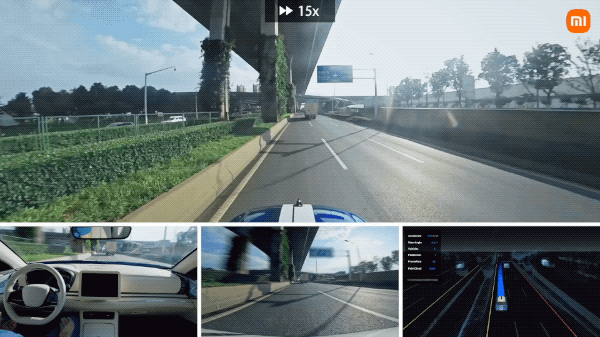 When you encounter an accident car, it will automatically go around instead of waiting all the time. But here we can see that the Xiaomi test car is a bit far away from the car, and it's easy to get stuck in traffic at home, even to the point where the white car on the right can't look away and overtake from the right.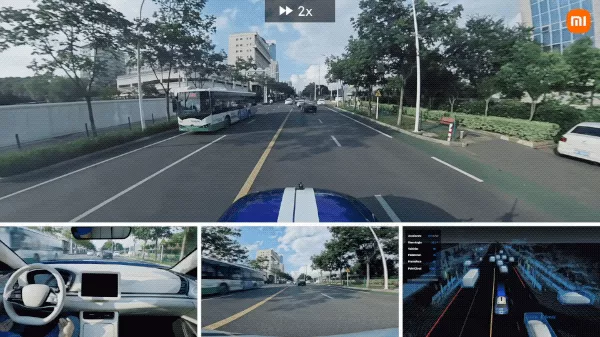 On the other hand, it also shows that the test car was driving at a lower speed than the other cars and did not drive as fast as possible below the speed limit and was not a veteran enough driver.
The Xiaomi Autopilot's perception system is fast and able to identify all types of vehicles, pedestrians and bicycles, as can be felt in the midst of oncoming traffic.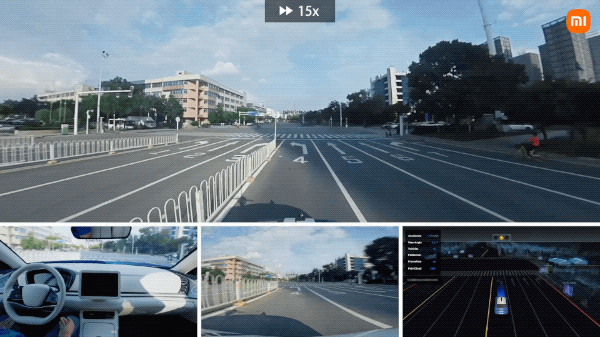 Spotting a pedestrian above the zebra crossing ready to cross, the Xiaomi self-driving test car will yield and slowly lend a hand to the left, which is very much like an old driver operating in a decisive process.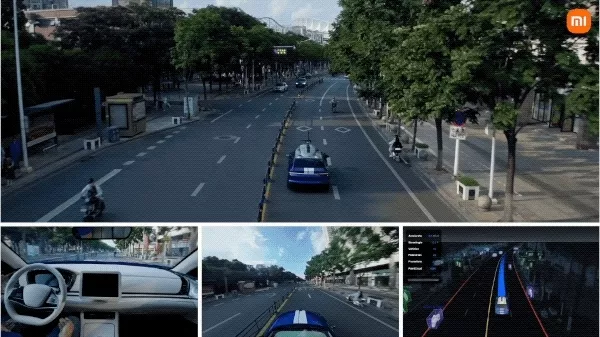 The self-parking demonstrated here is smooth when entering a parking lot, but the vehicle was actually officially built with a map before the video was shot, so if it hadn't been, the process might have been relatively slow. There are bugs here too, where the brakes are slightly too strong when encountering pedestrians, which tends to make passengers feel uneasy.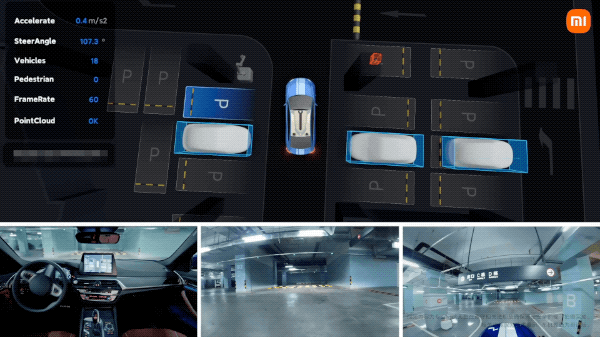 If the above-mentioned assisted driving features have already been demonstrated by other car companies, the following robotic arm automatic charging can be a surprise. But I don't know if it's easy to follow and it looks like it takes up a lot of space, which most people don't have in their parking lots.
The biggest difficulty is time, and Lei Jun's personal energy
After talking about this Xiaomi Autopilot, I remembered what Li Xiang, CEO of Ideal Auto, said on Weibo on his 40th birthday: "The only difference between people is their ability to learn and their speed of learning, the rest is a lie.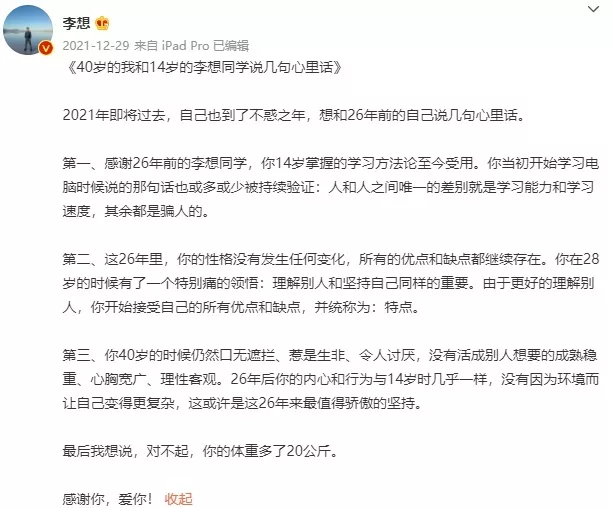 This Xiaomi Autopilot performance is not yet in the top tier of the country. But if you add the premise of making such an achievement in 500 days, this is a very hard-working and fast progressing car company. I am optimistic about Xiaomi car, self-development algorithm of the full stack of autonomous driving is the hard and right road, but the biggest difficulty is the time above the urgency, as well as Lei Jun's personal energy .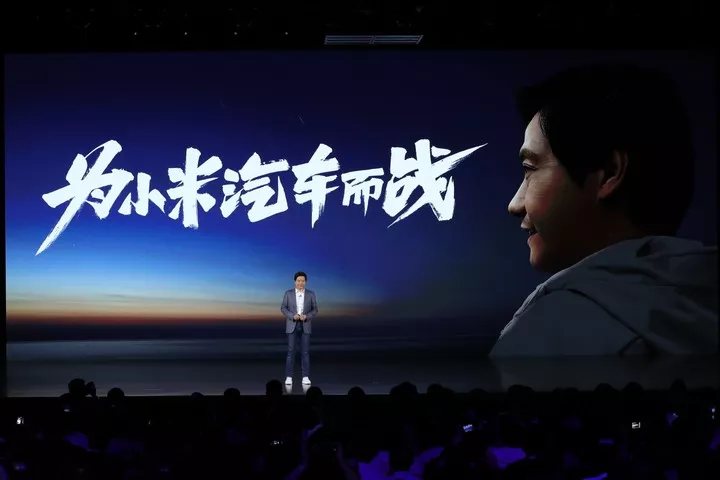 In July this year, Sina Technology reported that a person close to Xiaomi Auto revealed Lei Jun's obsession with building cars "as long as he is in the Xiaomi Science Park office, almost two-thirds of the time in Xiaomi Auto".
While I wouldn't necessarily buy a Xiaomi car, I admire Lei Jun who still rushes to the front line and presses his reputation to build a car.